Our list of top 40 finance journalists in 2023
Looking for some expert financial insights? Here are the top 40 finance journalists to follow in 2023. These seasoned professionals offer invaluable expertise, analysis, and commentary on the ever-changing world of finance. Whether you're a seasoned investor, a business owner, or simply interested in understanding the financial landscape, these journalists will keep you informed and help you navigate the complexities of the market.
With a diverse range of backgrounds and experiences, these journalists cover various aspects of finance, including stock markets, personal finance, cryptocurrencies, economic trends, and more. They provide in-depth research, breaking news, and thought-provoking perspectives that keep readers engaged and informed. By following their work, you can stay ahead of the game and make well-informed financial decisions.
Stay on top of the latest trends and developments in the finance industry by following these top finance journalists in 2023. Their expert insights and analysis will give you the edge you need to succeed in the ever-evolving world of finance.
A rich history of finance journalists
History can trace finance journalists back to the days of medieval merchants, who would rely on informants to give them news from the marketplace. Since then, finance journalism has evolved into a way to help people make informed economic choices with an understanding of how those choices can impact their financial situation.
Currently, finance journalism encompasses a broad yet targeted audience focusing on news about financial markets, Analyst rating, macroeconomics data and trends, government economic policy, corporate news, personal finance, and more in the finance industry. This kind of journalism can also explain complex financial concepts concisely. In the past, financial journalism was often seen as an exposé on harsh truths for governments and businesses worldwide. Even so, financial journalists are now seen as experts in their industry and asked to provide insights for companies all over the world. They collect data and report information about financial markets for print, broadcast & digital media and find essential stories to share with their audiences.
With the advancement of technology, financial journalism has grown bigger than anyone expected. From FinTech and Blockchain to AI intelligence, the finance industry has opened new doors for people to express their thoughts and ideas about the global marketplace. At the moment, many startups and entrepreneurs are looking for the perfect finance journalist to create a story about their brand through organic content.
While companies may have the ability to understand their industry and market, they may need additional help to create informative content and entice their target media professionals and audience. PR agencies, like Pressfarm, help companies create quality content including professional press releases, winning guest posts and eye-catching media kits.
As part of their PR packages, Pressfarm also provides access to their PR database of over 1 million journalists so that companies can filter through to find their ideal media match. Given the current digital landscape of industries, Pressfarm's PR experts also help with online distribution by increasing release visibility in relevant search results across major search engines.
If building media lists isn't your thing, then Pressfarm can also do that for you, thus helping you connect with the best journalists in your niche. With any of Pressfarm's PR packages, you can find the best people to tell your brand story, and get quality content to share with these expert storytellers.
Companies need to know the appropriate media professionals to reach out to with their stories. Let us look at the top 40 finance journalists who companies should develop relationships with to achieve media coverage.
Top 40 Finance Journalists to Cover Your Story
1) Joe Weisenthal
Weisenthal is the executive editor for Bloomberg Digital and co-anchor of "What'd You Miss?", one of Bloomberg Television's flagship markets programs. He has also led the editorial development of markets and finance coverage across Bloomberg's digital brands. Previously, he worked for Business Insider as one of the digital startup's first employees. His content focuses on the wonders of Wall Street and the economy, and his expertise has also turned him into one of the leading experts in the financial industry.
2) Ben Carlson
Ben Carlson is the brains behind "A Wealth of Common Sense," a blog that focuses on wealth management, investments, financial markets, and investor psychology. Carlson has established himself as a thought leader in the finance industry through his experience as a writer. He is also the Director of Institutional Asset Management at Ritholtz Wealth Management.
3) Scott Minerd
Minerd is a founding and managing partner at Guggenheim Partners. As Global Chief Investment Officer, he helps guide the company's investment strategies. With his expertise in fixed-income and equity securities, Minerd also oversees client accounts. His experience gives him the ability to offer insights on macroeconomic trends and the potential impact on global investment.
4) Erin Lowry
She is the author and founder of BrokeMillenial.com. In her blog, she helps millennials like herself get their financial life together through books, presentations, worksheets, and courses. Lowry is also the author of the book "BROKE MILLENNIAL: How to Stop Scraping By and Get Your Financial Life Together."
5) Frances Coppola
Not to be mistaken for Francis Coppola, Frances is the author of the Coppola Comment finance and economics blog. She's also a contributor to Forbes and the Financial Times, and an occasional blogger for Open Democracy and other publications. She studied singing and piano at the Royal College of Music. She also designed risk management systems for NatWest and financial and regulatory reporting systems for Midland Bank (now HSBC). After the financial crisis, she found herself back in finance as a writer and commentator to provide expert insight into the finance industry.
6) MyFabFinance
The MyFabFinance website created by nationally recognized millennial money expert Tonya Rapley is dedicated to helping millennial women transform their money story from a thriller into a feel-good adventure. Rapley is dedicated to helping women become who they are meant to be without any barriers or hardship. With leading financial education and lifestyle tips, the blog is a limitless resource for financial and professional growth.
7) Fareed Zakaria
Well-known as the host of CNN's Fareed Zakaria GPS, he is an Indian-American journalist, political commentator, and author who has spent his career providing insight into international issues and foreign affairs. At the same time, he also writes a weekly paid column for The Washington Post and has been a columnist for Newsweek, editor of Newsweek International, and an editor at large at Time Magazine.
8) Anthony O'Neal
Anthony O'Neal is a bestselling author and speaker who helps students make intelligent decisions with their money, relationships, and education. His podcast "The Table with Anthony O'Neal," can be found on his website. This podcast gives people a way to shift their mindset and get a clear vision of their future so that they can start winning in life and with money. He has made TV appearances on Good Morning America, The Tamron Hall Show, and Rachael Ray. Along with his site's mission, he teaches young adults how to budget, live without debt, avoid student loans, and build real wealth for their future.
9) Emma Edwards
Edwards has built her career with a two-pronged mission in mind. She wanted to use her finance writer experience to make financial literacy fun, exciting, and accessible to women of all backgrounds. Additionally, Edwards wanted to bring financial services to life with engaging and impactful copy and content. Her writing background includes experience in finance, real estate, insurance, and business.
10) Paul Krugman 
Krugman is an American economist also known as the Distinguished Professor of Economics at the Graduate Center of the City University of New York and a columnist for The New York Times. He specializes in explaining the patterns of international trade. He also covers the geographic distribution of economic activity by examining the effects of economies of scale and consumer behavior on diverse goods and services.
11) Paige Pritchard
Her financial journey began when she was trying to pay off her student loans and other debts. Together with her husband, they paid off almost $100,000 in debts after ten years. Through her social media platforms and website, her mission is to empower women and couples to settle and build massive wealth together.
12) Mrs. DowJones
13) Dave Ramsey
Throughout his career, Dave Ramsey has become America's trusted voice on money and business. His extensive portfolio has made him a personal money-management expert and top-rated national radio personality. His busy schedule has not stopped him from giving back to the community by creating the Financial Peace University. This is a program that helps people get rid of debt, take control of their money, and learn money-management skills founded on commitment and accountability.
 14) Christine Lagarde
While it may be a bit challenging to get coverage from her, Christine Lagarde's expertise in finance and the economy has earned her a place on this list. She is a French politician, businessperson, and lawyer. She also serves as President of the European Central Bank and has served as Chair and Managing Director of the International Monetary Fund. Her years of experience in the finance industry gave her the privilege of being ranked #2 on the World's 100 Most Powerful Women list by Forbes.
15) Ben Chu
He is the economics editor for The Independent and spent a year working the same job at BBC Newsnight. He was previously the chief leader writer for Independent, where he enjoyed spending his free time debunking stereotypes that the Western world might have about the Eastern world. His research and findings helped him to author the book "Chinese Whispers: Why Everything You've Heard About China is Wrong."
 16) Sweet Frugal Life
After her husband unexpectedly lost his job, stay-at-home mom Melanie started finding ways to live frugally and budgeting whenever possible. Through first-hand experience and experimentation, she wanted to help others understand that living frugally is not something that needs to be done AFTER a significant financial hit. Rather, this is a lifestyle people must adopt daily so that they are prepared for any unforeseen circumstances.
 17) Andrew Ross Sorkin
Sorkin is known for his work as a financial columnist for The New York Times and a co-anchor of CNBC's Squawk Box. He has also had a career in writing media since his senior year of high school when he was a student intern for The New York Times. He went on to join New York Times as a European mergers and acquisitions reporter in London before moving to New York to perform the same role.
 18) Gretchen Morgensen
Morgensen began her career as an assistant editor with Vogue magazine, eventually becoming a writer and financial columnist. After co-authoring the book "The Woman's Guide to the Stock Market in 1981, she continued writing about finance at Money magazine. In late 1986, she accepted an offer by Forbes to work as an editor and investigative business writer. In 1998, she became the assistant business and financial editor at the New York Times. Here, she wrote about conflicts of interest between financial analysts and their employers, who generate income from the analysts' companies.
20) StockCats
StockCats is a website that combines finance with people's love for cats. While the finance industry can be filled with pretty dry topics, stockcats.com provides art, memes, and cat videos about the stock market and financial issues. This content lightens the mood just a touch while still providing valuable information.
---
Before you read further
We at Pressfarm believe that everyone deserves a shot at easy PR, access to journalists and positive press coverage. Our PR experts will collaborate with you to take your company to the next level and bring more visibility to your company.
---
21) Stephanie Flanders
Flanders is the Senior Executive Editor for Economics at Bloomberg News and head of Bloomberg Economics at Bloomberg News since October 2017. She began her career as an economist at the London Business School and the Institute for Fiscal Studies. She became a lead writer and columnist at the Financial Times. Previously, she was Chief Market Strategist for Europe at JP Morgan Asset Management in London.
22) Henry Blodget
Blodget is an American businessman, investor, and journalist. Throughout his career, he has also worked as a former equity research analyst. Unfortunately, due to his violations of securities laws and subsequent civil trial conviction, he was permanently banned from involvement in the securities industry. Even so, this obstacle didn't interfere with his financial journey, as he later became the CEO of Business Insider.
23) Brian D. Evans
Evans is the CEO and Founder of BDE Ventures and Influencive – a platform that shares unconventional wisdom about online marketing and finance from influential minds to help teach, train, and inspire the next generation of leaders. Evans is also an award-winning serial entrepreneur, online marketer, mobile app advisor and accomplished writer. He has been building and advising startups for over a decade.
24) Amy Cosper
Cosper is the former vice president and editor-in-chief of Entrepreneur Media Inc. With her journalism roots in the tech world, she helped evaluate new business plans, ventures, and partnerships to assist in diversifying the company's portfolio. She went on to become publisher and editor-in-chief for Satellite Broadband magazine at Primedia.
25) Prashant Rao
Prashant Rao is currently the Senior Manager of Analytics & Insights at TD. He has spent his career working with teams of business insights & analytics specialists. He also works closely with various internal stakeholders to understand business objectives, and identify analytics needs, and opportunities for improvement. Furthermore, he helps inform and support business decisions and strategies.
26) Peter Bruce
Currently, Bruce is the editor-at-large and columnist of Business Live. In addition, he has previously worked as editor-at-large at Arena Holdings and editor-in-chief of Business Day, Financial Mail, ABC, the Business Day TV, Home Channel, and Ignition channels.
27) Al Lewis
Lewis is an American journalist who has served as a columnist for The Wall Street Journal Sunday and MarketWatch. He works as Markets Editor for CNBC. Here, he works with a fast-paced team of digital reporters to cover Wall Street and financial news ripples worldwide.
 28) Kate Rogers
Before joining CNBC as a reporter in 2014, Rogers was a personal finance and small-business reporter for Fox Business and FoxBusiness.com. While there, she reported all daily programming and hosted a Web series on entrepreneurship and startups.
29) Asma Khalid
She is a political correspondent for NPR who co-hosts THE NPR Politics Podcast. Her years of experience in journalism and politics have given her the ability to report on many stories over the years. She continues to cover business, technology, and the future of work.
 30) Biz Carson
Carson is a staff writer for Protocol who writes content that is focused on Uber, the sharing economy, and startups. She has previously worked at other finance publications including Business Insider, Forbes, etc.
31) Aaron Heslehurst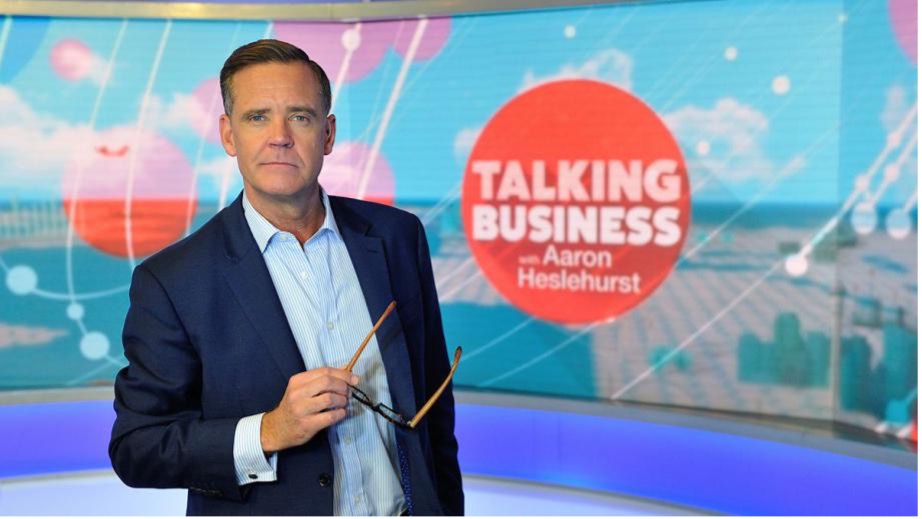 Aaron has been a BBC business news presenter since February 2002. He has worked across all the BBC television channels, including BBC World News. He has also interviewed some of the world's most prominent corporate leaders from the World Bank, the IMF, the European Union, and the World Trade Organization.
32) Sui-Lee Wee
Sui-Lee is a business correspondent for The New York Times who focuses on covering Chinese consumers and health care.
 33) Mikal Belicore
Belicore is a magazine columnist, book author, blogger, and also ghostwriter who writes about entrepreneurship, marketing, business planning, and corporate communications, emerging technologies, legal issues, and more.
34) @BABEONABUDGETBLOG
As a law school graduate, the founder of the blog – Kendall – wanted to use her social media platforms to help herself and others stay accountable for personal finances. Her success stories and stepping stones for success include tracking goals, match programs, and budgeting. She also shares tips and tricks for people to save money on utilities, car insurance, and groceries.
35) Jon Prior
Prior is a business writer who had previously worked at the Dallas Business Journal before being hired by American Banker. He has also covered private equity, commercial banking, hedge funds, family offices, and mergers and acquisitions in his career.
36) Cassandra/ @MONEYWITHCASS
37) Pamela Ambler
Ambler is a journalist who covers entrepreneurship, wealth, blockchain, and the crypto economy as a senior reporter across digital and print platforms. Before Forbes, she worked as an on-air foreign correspondent for Thomson Reuters' broadcast team, where she reported on global markets, digital currency, and more.
 38) Nathalie Tadena
39) The Budgetnista
Tiffany Aliche has become known as America's Favorite Financial Educator. She is dedicated to making life-changing financial education accessible for women worldwide using her favourite financial resources & tools. Aliche helps women understand the importance of budgeting and frugal living for a happier life without too many worries.
40) Daniel Anderson
Daniel Anderson is a personal finance coach and founder of The Money Maniac. Drawing from his background in investment banking and entrepreneurship, he helps people reach financial freedom and live richer lives. Daniel focuses on building wealth by increasing income, spending strategically, and investing for the future.
41) Allison Baggerly
Through her blog @INSPIREDBUDGET, Baggerly shares the tools that people need to improve their personal finance. Beyond that, she also shares ongoing motivation for a debt-free journey. Additionally, she provides expert insight and information about understanding emergency funds, budgeting, and cash envelopes.
 42) Sahirenys Pierce
Pierce is a millennial Latina mom with a background in financial planning. As a stay-at-home mother and entrepreneur, she also uses her brand, the Poised Finance + Lifestyle, to help women balance their finances and lifestyle with poise.
43) Tori Dunlap
After saving $100,000 at age 25, Tori Dunlap quit her corporate job in marketing to help fight financial inequality by giving women actionable resources to better their money. She has been called "the voice of financial confidence for women" by CNBC, and through online tutorials and also expert insight. She has also helped many women reach their financial goals.
Conclusion
Whoever a company chooses to tell its brand story, it is essential to remember that time is money. In the finance industry, where the market and economic trends are constantly changing, journalists are always busy trying to create content that is relevant to the current trends before it becomes old news. To make contact with these media professionals, companies also need to produce quality content that can draw their attention, regardless of their niche and target audience.
---
How Pressfarm can help
For an entrepreneur, overcoming a crisis can determine your success or failure. At Pressfarm, we help companies define the right narrative in the media for their brand – either to improve their credibility or resolve a PR crisis. If you are an entrepreneur wondering how to improve your company's publicity, get in touch with us. We can help you to craft and distribute your press releases, develop compelling guest posts and design eye-catching media kits for your brand.
Learn why we are good at what we do from our customer success stories.