TikTok is the newest social media platform, and all the rage with social media influencers who want to make good money by posting videos and establishing brand partnerships and sponsorships. While its user base is largely Generation Z, since the COVID-19 pandemic struck, its demographics have shifted slightly, with a notable increase in other generations on the app.
It has become clear that people are craving more micro-entertainment in the form of short bursts of distraction, which is one of the main appeals of TikTok. The idea of producing short videos and funny clips was first introduced by the social app Vine. Nevertheless, Twitter discontinued Vine in 2016, leaving a gap which TikTok only recently filled. Currently, TikTok has over 500 million active users worldwide and was one of the most downloaded apps in 2019. Because of this, there is a new generation of influencers who are making big bucks on the app.
Let's take a look at some of these individuals.
TikTok's Highest-Paid Stars in 2021 
1) Addison Rae
Annual earnings: $5 million
Overall: $14,722,500
Considered to be the highest-earning TikTok personality by Forbes in August 2020, Addison actively posted content on TikTok in July 2019. She started uploading dance videos to trending songs on the platform after leaving her studies at LSU and gaining over one million followers on the platform. After moving to LA to pursue her career, she has amassed 79 million followers ranking as the second most-followed person on the platform. Since then, she has partnered with American Eagle, released a weekly podcast exclusive to Spotify, and launched her own cosmetics line. She has also dabbled in music and movies, and she's starring in the upcoming remake of the 1999 teen comedy, She's All That. Through her various endorsement deals and merchandise, she had earned $5 million in 2020 alone, and her success has led her to work with companies like Reebok, L'Oreal, Hollister, and American Eagle.
2 & 3) Charli & Dixie D'Amelio
Annual earnings: $4 million, $2.9 million
Overall: $18,224,000; $6,534,000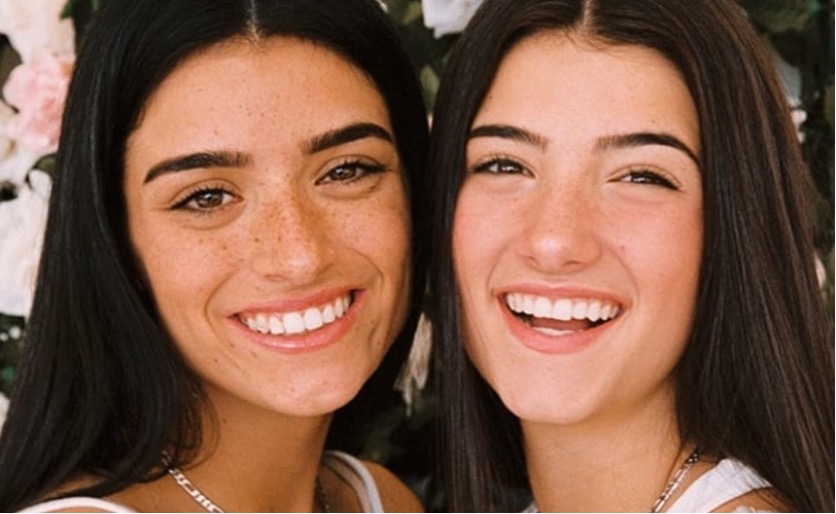 The D'Amelio sisters started gaining popularity on TikTok around the same time as Addison Rae. Similarly, they began by posting dance videos to trending songs. The younger sister Charli is the second-highest earning TikTok personality after Addison, with Dixie taking the third spot. Thanks to their success, the sisters have signed with talent agencies, launched their podcasts, and built a music career. However, they have not shied away from controversy with their "Dinner with the D'Amelios" series.
Unfortunately, they've been known to exhibit "rude" behavior in this series. In fact, Charli lost over one million followers n TikTok in less than one day because of their attitude. Along with that, many followers were distraught when it was revealed that the sisters and other social media personalities were seen vacationing in the Bahamas during the COVID-19 pandemic instead of staying home as advised while cases in Los Angeles were rising. Whatever controversies they have been through, it seems they are still making money through the platform.
4) Loren Gray 
Annual earnings: $2.6 million
Overall: $5,355,000
Loren joined TikTok when it was known as Musical.ly – she was only in the 6th grade. However, after gaining a large following on the app, she started getting bullied and moved to LA to pursue her career. As of February 2021, she has more than 51 million followers on TikTok and is the sixth most-followed person on the platform. She also has quite an impressive music career, signing a record deal with Virgin Records in March 2018. She's launched a jewelry brand. According to Forbes, through her numerous sponsorship deals and merchandise, she earned $2.4 million in 2020, making her the fourth highest-earning TikTok star.
5) Josh Richards –
Annual earnings: $1.5 million
Josh liked to entertain people from a young age and had dreams of becoming an actor and musician. Even though he is only 19, he has been posting content to social media since 2010. His TikTok posts date back to March of 2017, and his main account has gained over 14 million followers. He is most well known for lip-syncing videos, comedic skits, and unique dance moves. He has also partnered with TalentX Entertainment, a management company representing social media's biggest stars, and uses his platform to help raise awareness on causes focused on protecting the environment.
6) Michael Le
Annual earnings: $1.2 million
Overall: $20,378,000
Known as JustMaiko on social media, Michael is an American dancer, choreographer, and social media personality who started posting videos on TikTok back when it was known as Musical.ly. He is best known for his dancing videos and tutorials on the platform. As of July 2020, he had 34 million followers on TikTok and remained one of the platform's most-followed male personalities. The same year, he and his friends formed the Shluv House to create content for various social media platforms. He is also a brand ambassador for Bang energy drinks and sells his merchandise through the collective house.
7) Zach King
Earnings per post: $35,000
Overall: $2,216,000
Zach has been internet famous for quite some time now. He is most known for his digitally edited videos which make it look like he's doing magic. He started posting videos on YouTube in 2008, as well as on his website FinalCutKing.com where he offered training and tips about the editing software Final Cut Pro because he could not find tutorials for the software on the internet. In 2013, he started posting videos on Vine. When he published his first video to TikTok in 2016, he accumulated over 45 million followers, making him one of the most-followed individuals on the platform. In December 2019, he posted the most viewed TikTok video, which featured him riding a broomstick. The video received an estimate of 2 billion views.
8) Demi Bagby
Annual earnings: $3,266,500
Demi is an American Crossfit athlete and bodybuilder who rose to fame across social media by inspiring people worldwide to maintain a healthy lifestyle. After suffering a freak accident in 2014, she was left paralyzed for three months, faced with the prospect of never being able to walk again. During her recovery period, she became fascinated with CrossFit and calisthenic athletics. After overcoming this life-changing event, she became an inspiration and was recognized as an established CrossFit athlete.
9) Spencer X
Annual earnings: $3,577,000
Spencer Knight is a beatboxer and YouTube star who rose to fame on TikTok. He's well-known for his fast-paced and smooth beatboxing and music tracks. He produces original tracks, produced tracks, and comedic tracks across social media platforms and has more than 38 million followers on TikTok. Since his rise to fame, he has collaborated with several famous artists like Alicia Keys and Sean Kingston.
10) Riyaz Ali
Estimated net worth: $2 million
Riyaz is a popular Indian TikTok star, fashion blogger, actor, and model. He is known for his lip-syncing videos and has more than 26 million followers on the platform and he started his career in 2017 by posting videos on Instagram and later on TikTok. He currently lives in India with his family and is one of the most-followed personalities on TikTok. Since the start of his career, he has been featured in numerous popular Hindi and Punjabi music videos.
11) Awez Darbar
Estimated Net Worth – $1 million – $5 million
Awez started his career when he joined YouTube and is a Mumbai-based dancer, choreographer, and influencer on social media. When he moved onto TikTok, his content went viral, and he was able to accumulate more than 20 million followers on the platform. Shortly after joining, he has become one of the platform's most-followed stars in India and worldwide.
12 & 13) Gil & Jayden Croes
Estimated Wealth: $5 million
The Croes brothers both have an active social media presence on various platforms. The Aruban natives are best known for their lip-sync comedy videos on TikTok and YouTube. Gil has 28 million followers on TikTok, and Jayden has more than 22.8 million. Their CroesBros YouTube channel is one of the most successful in Aruba, and all their videos have more than 34 million views.
14) Arishfa Khan
Estimated Net Worth – $1 million to $ 5 million
Even before TikTok, Arishfa Khan had an acting career starting from a very early age. When she began her TikTok account, she grew to popularity by posting dancing videos, fashion videos, and lip-sync videos and has become one of the most-followed influencers on the platform. She also has success as a fashion blogger, and beloved for her looks on social media.
14) Nisha Guragain
Estimated Net Worth – $3,358,389
Similar to Arishfa, Nisha is a social media personality and singer from Mumbai, India. She is best known for her lip-sync and fashion videos on TikTok as well as her Bollywood videos, which have received millions of views. She first became popular on the platform when she uploaded a lip-synch video to the platform to the song "Mujhe Yaad Hai Aata Teri Wo Nazrein Milana," which got nearly 3 million likes. As of July 2020, she has around 28 million followers on TikTok.
15) Baby Ariel
Estimated Net Worth – $ 6 million
Ariel Rebecca Martin is an American social media personality, singer, and actress who also produces videos on TikTok. She has been recognized as one of the most influential people on the Internet by Times magazine in 2017. Much like many others on this list, she was on the platform even before it was known as TikTok. Through her success, she launched an anti-bullying campaign called #ArielMovement and was recognized by People magazine to support the #HackHarrassment initiative against internet trolls. She currently has 34.7 million followers on TikTok, earning an estimated $32,000 per post.
16) Joe Albanese
Similar to the other influencers on this list, Joe is a dancer best known for his work on social media, where he posts comedic videos as well as breakdancing videos and trending content. His content officially took off in 2019, and he has since risen to become one of the most successful stars on TikTok. In 2020, he joined the TikTok collaborative Sway House – with Anthony Reeves, Bryce Hall, and Josh Richards – where he makes content with fellow house members. He has more than 21.8 million TikTok followers. He continues to grow his following by creating videos based on popular trends and putting his spin on them to make the videos funnier and more entertaining to watch. With his TikTok success, he has gotten the opportunity to meet many celebrities. He has partnered with several companies to produce sponsored content, including Arizona Ice Tea, Fashion Nova, Pacsun, Redbull, and more.
17) Avani Gregg
Estimated Net Worth: $20 million
Avani built her career on TikTok, where she created content related to beauty and makeup. Her first viral video on TikTok was a transformation into Harley Quinn style clown. This video prompted viewers to nickname her the "Clown Girl". She joined the collective "The Hype House," which also consists of Charli D'Amelio and Addison Rae. Her success has led her to receive the Shorty Award for Tiktoker of the Year and featured on Forbes' "30 under 30" in the social media category.
In order to partner with any of the influencers on this list, you need to produce content that appeals to them. If this is too much for you to handle on your own, then you can partner with PR professionals to turn your ideas into actual words.
PR agencies like Pressfarm help companies create newsworthy content to gain the attention of media professionals and influencers. They also go the extra mile by providing companies with access to their PR database of over 1 million journalists. Clients can filter through these journalists to find their perfect media match.
Pressfarm's understanding of digital PR and marketing has also equipped them with what it takes to help brands capture media attention by helping them feature in relevant search results on multiple search engines. Partner with the experts at Pressfarm and start generating the publicity your brand deserves today.