When people think about entertainment options, podcasts tend to be at the bottom of their list. At a glance, podcasts may not seem as exciting as movies, TV shows, or even the radio. However, podcasts are a new and exciting emerging entertainment platform that covers a variety of topics and niches.
Podcasting vs. Live radio broadcasting
While podcasting might seem similar to a live radio broadcast, it is actually very different. One of the biggest differences is that podcasts can be recorded and produced by anyone, anywhere. In fact, creating a podcast only requires a piece of recording software and a microphone. Additionally, podcast episodes or segments can be recorded long before their release date.
Most podcast series come with details about the podcaster. These include a website with links and show notes, guest biographies, additional resources, transcripts, commentary, and a community forum dedicated to discussing the show.
Why would anyone start a podcast?
There are many reasons why people are motivated to start a podcast. For example, you may want to express a personal passion, increase professional visibility, connect with a social network of influencers or thought leaders, nurture groups of like-minded individuals, or educate people. Interestingly enough, due to the affordability of running a podcast and the effectiveness of this entertainment format, podcasting is classified as a disruptive medium.
How to make money through podcasting
New podcasters also often wonder how much they can make through podcasting. This all depends on the number of people your podcast attracts and the amount of ad revenue you make in return.
So, how would you as a podcaster actually make money through the medium? The simple answer is through affiliate marketing, sponsors and advertising, online courses, coaching and consulting, crowdfunding and donations, physical products, book sales, and public speaking. Affiliate or performance marketing is when you get a commission for referring people to other companies. You will typically earn money when someone makes a purchase. This generally works better when you promote products or services that you use or are familiar with.
Sponsorships and advertising are some of the most common ways to make money from podcasting. If your podcast has a smaller or more niche audience, the best way to earn revenue through sponsorships is by reaching out directly to companies that would be a great fit.
Many popular podcasters will also create their own online courses in addition to their podcast to teach the same topics they cover in their podcasts in more detail. Podcasts are a great way to teach something in a way that is easy to follow. Coaching and consulting are yet another way to earn income through podcasting. By showing that you are an expert on a specific topic, you can show your listeners that you know what you are talking about.
Podcasting in 2023
There has been a recent transition in the podcast industry, with podcast hosts finding more niche-specific platforms where they can thrive. These platforms make it easier to connect with people who are likely to be interested in your brand.
The most successful podcasts have adopted viable production models, thus earning a position on the list of highest-paid podcasters in 2023.
With the increased popularity of podcasting, the resources required to produce a podcast have also expanded. Some podcasts have entire production teams behind them, resulting in a high production value. This article will look at the top 60 podcasts in 2023. We considered a variety of factors while compiling this list including sponsorship value, affiliate marketing, and the sales of related products and services.
1) The Joe Rogan Experience 
Estimated Net Worth: $120 million 
Launched officially on December 24, 2009, The Joe Rogan Experience is a podcast hosted by American comedian and UFC commentator Joe Rogan. Rogan and comedian Brian Redban initially co-hosted it until Redban was replaced by Jamie Vernon in 2013. By 2015, the podcast was one of the world's most popular podcasts, receiving millions of views per episode regularly and featuring a wide range of guests.
Some significant highlights of the podcast include "Sober October," which started in 2017, encouraging listeners to curb their addictions by trying to do the challenge. Additionally, Elon Musk was a guest on the podcast in 2018. He was seen smoking cannabis, attracting press attention and causing a 9% fall in Tesla stock. The New York Times labeled the podcast an "unlikely political influencer" in the 2020 presidential election when presidential candidates Andrew Yang and Tulsi Gabbard saw a considerable rise in popularity and fundraising after making guest appearances on the podcast. Similarly, presidential candidate Bernie Sanders gained popularity after Rogan spoke favorably about him on the podcast.
One of the reasons why the podcast has been successful is the different guest appearances along with a very uncensored conversation about various topics and industries.
Listen to The Joe Rogan Experience 
2) The Daily 
Estimated Net Worth: $10 million 
The Daily is a daily news podcast and radio show hosted by Times political journalist Michael Barbaro. Created by the American newspaper The New York Times, every episode is based on interviews with Times journalists who summarize and comment on their stories. The Daily also features recordings or original reporting with the people involved in the story.
In January 2017, the podcast became a success for the Times with 3.8 million individual listeners by August 2017 and was regularly placed in the Top 10 most-listened podcasts by Autumn 2017. The New Yorker attributed this success to its "conversational and intimate" tone that makes the news more accessible. By 2018, the podcast began being syndicated to radio by American Public media. It also won the 2020 Webby Voice of the Year in the category of Special Achievement.
Listen to The Daily 
3) Crime Junkie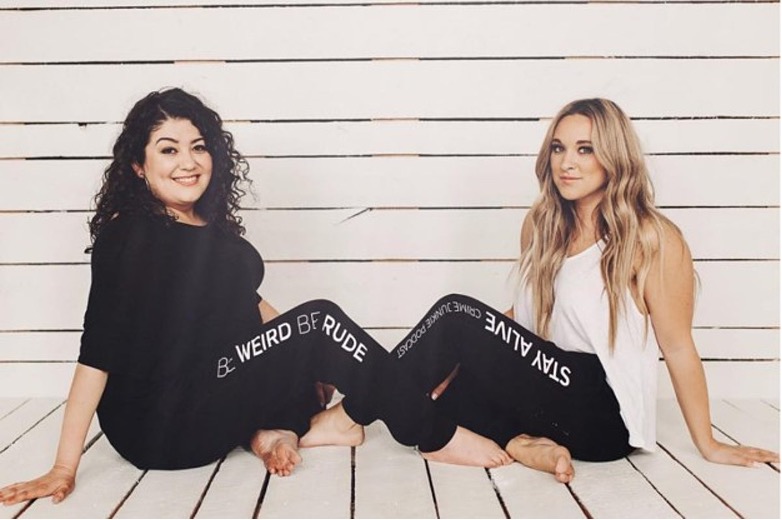 Estimated Net Worth: $6 million
Hosted by Ashley Flowers and Brit Prawat, Crime Junkie is a true-crime podcast in Indianapolis, Indiana. Before launching the podcast, Flowers joined the board of directors for Crime Stoppers, where she hosted a 20-minute show on RadioNOW 100.9. The show was supposed to promote Crime Stoppers to improve the organization's standing with a younger audience – RadioNOW 100.9 lasted a year. After realizing that there were not enough podcasts, Flowers released the first podcast episode in December 2017 and has posted weekly episodes since then.
Prawat joined the team, and now both women research, write, edit, and prepare for every episode. The episodes are between 30 minutes to an hour long and feature stories of murder, missing persons, and serial killers. Both women take part in the episode, with Flowers telling the story and Prawat adding her perspective.
Listen to Crime Junkie 
4) This American Life 
Estimated Net Worth: $2 million 
This American Life is an American weekly hour-long radio show produced in partnership with Chicago Public Media and hosted by Ira Glass. The content is primarily focused on journalistic non-fiction that features essays, memoirs, field recordings, short fiction, and footage. Many of the episodes show adaptations for television, film, live tours, digital cinema, podcasts, mobile apps, and other media.
The podcast version of the show was launched in October 2006 and was free to the public. Under this arrangement, every show was made available to podcast feeds and aggregation programs, allowing radio stations to carry episodes exclusively.
Listen to This American Life 
5) Stuff You Should Know 
Estimated Net Worth: $7.2 million 
SYSK is a podcast and video series published by iHeartRadio and hosted by Josh Clark and Charles W. Bryant. Since its debut in 2008, the podcast has consistently ranked in the Top 10 on iTunes and is one of the most popular in the world.
The podcast releases episodes several times a week. It educates listeners on a plethora of different topics in science, history, and urban legends and uses popular culture as a reference, giving it comedic value. It originally began as an attempt to try and repurpose written content on HowStuffWorks.com. Due to its growth in popularity, the podcast has made appearances at events, including South by Southwest and Comic-Con.
Listen to Stuff You Should Know
6) My Favorite Murder
Estimated Net Worth: $15 million 
My Favorite Murder is a bi-weekly true crime comedy podcast hosted by American comedians Karen Kilgariff and Georgia Hardstark. Since the first episode was released in 2016, the podcast debuted at #25 on the iTunes podcast charts, and subsequent episodes would regularly land on the Top 10 Comedy Podcast charts.
Both hosts select murders, true crime stories, survivor stories, or historical events to summarize and discuss in every episode. The format consists mainly of dialogue between the hosts and their guests. Their guests have included Patton Oswalt, Bellamy Young, Conan O'Brien, and Cameron Britton.
Listen to My Favorite Murder 
7) Pod Save America 
Estimated Net Worth: $160,000 
Pod Save America is an American liberal political podcast produced and distributed by Crooked Media. Debuted in January 2017, the podcast airs twice weekly on Mondays and Thursdays. The podcast hosts are former president Barack Obama staffers Jon Favreau, Tommy Vietor, Jon Lovett, and Dan Pfeiffer. As of November 2017, the show had averaged more than 1.5 million listeners an episode. The episodes have recorded over 120 million downloads collectively.
The podcast typically covers recent news relating to politics. This content has included the Trump administration, the US government, the Democratic Party, and progressive grassroots activism. Pod Save America has also featured interviews with politicians, activists, and journalists, including Obama's last interview as president. Other guest appearances have included president Joe Biden, former secretary of state Hilary Clinton, and senators Bernie Sanders, Elizabeth Warren, Cory Booker, Kamala Harris, and Chris Murphy.
Pod Save America has received a great reception from publications like The New York Times, The San Francisco Chronicle, GQ, and Newsweek. It has earned a label as "one of the big breakout hits of the nascent resistance movement" and one of the nation's most popular podcasts.
Listen to Pod Save America 
8) Office Ladies 
Estimated Net Worth: $2 million 
Office Ladies is hosted by Jenna Fischer and Angela Kinsey, stars of the American television sitcom The Office. This podcast deconstructs each episode of The Office and offers behind-the-scenes commentary from two people who were there. Jenna Fischer and Angela Kinsey also respond to fan questions.
Released on October 16, 2019, the podcast has featured a variety of guests, including former co-stars, producers, and writers. There are currently 86 episodes and three seasons.
Listen to Office Ladies 
9) Serial 
Estimated Net Worth: $3 million 
Serial is an investigative journalism podcast co-created and co-produced by Sarah Koenig and Julie Snyder and developed by This American Life. It's been owned by The New York Times since July 2020. The podcast ranked number one on iTunes even before it debuted and remained in that rank for several weeks. In April 2015, Serial won a Peabody Award for its innovative long-form non-fiction storytelling. As of September 2018, the episodes from its first two seasons have been downloaded over 340 million times and established an ongoing podcast world record.
The podcast originated with an experiment Koenig created when her first idea for a podcast didn't gain any traction and Ira Glass, host of the radio show program This American Life, asked her if she had any ideas for a podcast. She came up with the concept of a story that unfolded as a serialized narrative over time. The first episode was released on October 3, 2014, and Glass introduced it as a spinoff of his popular radio program.
Listen to Serial 
10) The Ben Shapiro Show 
Estimated Net Worth: $48 million 
The Daily Wire's The Ben Shapiro Show is a daily political podcast and live radio show hosted by Ben Shapiro. The podcast was launched in September of 2015. In March 2019, Podtrac recognized The Ben Shapiro Show as the second most popular podcast in the United States. By April 2018, Westwood One began broadcasting The Ben Shapiro Show podcast. In January 2019, Westwood One added a nationally syndicated two-hour live radio show to Shapiro's one-hour podcast-to-radio program, for a total of three hours of Ben Shapiro programming daily.
Listen to The Ben Shapiro Show 
11) Call Her Daddy
Estimated Net Worth: $12 – 15 million 
In 2018, Alexandra Cooper and Sofia Franklyn launched Call Her Daddy, a comedy and advice podcast. With content that features sex/relationship advice, stories/anecdotes, embarrassing moments, and classic "girl talk," the podcast grew popular within months of launching. In fact, downloads skyrocketed from 12,000 to 2 million in just two months. In 2020, Call Her Daddy was the most popular podcast on Spotify.
Barstool Sports used to own and distribute the podcast until June 2021, when it was announced that Cooper had negotiated a $60 million exclusive agreement with Spotify. Cooper and Franklyn had a public feud with Barstool founder David Portnoy in late spring 2020, culminating in Franklyn's departure. Cooper and Barstool came to a deal, and Cooper proceeded to host the show on her own. Barstool still handles the podcast's marketing.
Listen to Call Her Daddy 
12) Wait, Wait… Don't Tell Me 
Estimated Net Worth: $400,000 – 500,000 
Distributed through WBEZ and National Public Radio (NPR) and produced in Chicago, Illinois, Wait Wait… Don't Tell Me! is an hour-long weekly news radio panel show. In this show, the host quizzes panelists and contestants about the news of the week in a lighthearted manner. It is broadcast on weekends by member stations and is disseminated by NPR in the United States, NPR Worldwide worldwide, and on the internet through different podcast platforms. On air and via podcast, the show has roughly 6 million weekly listeners.
Before the pandemic, it was usually recorded in front of a live audience and was hosted by playwright and actor Peter Sagal.
Listen to Wait Wait… Don't Tell Me 
13) Planet Money 
Estimated Net Worth: Unreported 
Planet Money is a podcast and blog created by NPR in the United States. Planet Money claims to be "The Economy Explained" through "creative and entertaining" dialogue and narrative.
Alex Blumberg and Adam Davidson started the podcast after the success of their This American Life episode, "The Giant Pool of Money." More specifically, Planet Money was founded on September 6, 2008, in the aftermath of Fannie Mae and Freddie Mac's federal takeover to cover the financial crisis of 2007–08. Planet Money celebrated its 1000th episode in early 2020, bringing back many former hosts and contributors to commemorate the milestone.
The podcast episodes range in duration from 6 to 30 minutes. Planet Money tackles popular, complicated issues like American health care and insider trading with simplified narratives. The format attempts to make economic journalism more accessible to audiences that want to learn more about current economic challenges but don't have a formal economics background. The episodes are usually self-contained. Popular guests include academic specialists, corporate executives, and members of the general public in North America. The podcast hosts provide contextual framing and discussion while providing listeners with the primary source content.
Listen to Planet Money 
14) Up First 
Estimated Net Worth: Unreported 
Up First is a daily news podcast produced by NPR, which airs a new edition every weekday at 6 a.m. ET and on Saturdays at 8 a.m. ET. Unlike some other popular news podcasts, Up First provides a brief synopsis of each news item rather than a thorough dive into each subject.
The podcast premiered on April 5, 2017, intending to present the day's most important headlines in a digestible style and provide hosts with the opportunity to discuss current events with experts. Morning Edition hosts Rachel Martin, Noel King, A Martnez, and Steve Inskeep host the daily edition of the program.
Listen to Up First 
15) Radiolab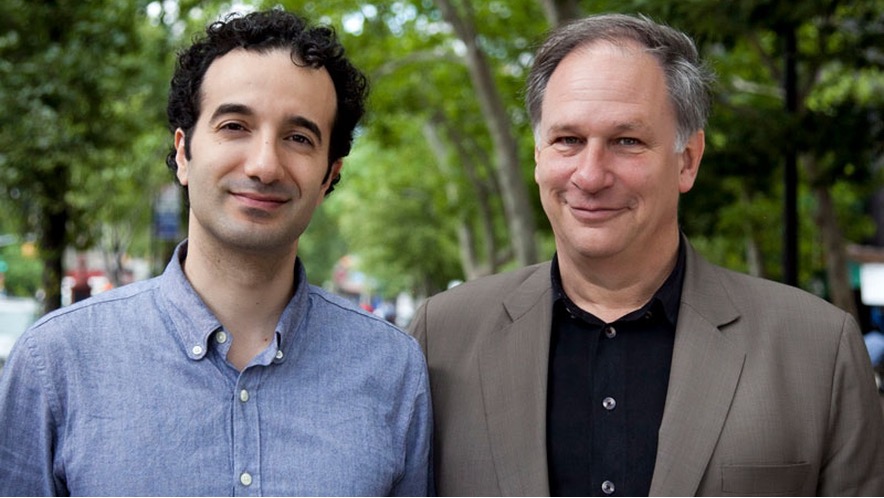 Estimated Net Worth: Unreported 
Radiolab is a radio program produced by WNYC in New York City. It is broadcast nationally and is also accessible as a podcast. The show is primarily focused on scientific, philosophical, and political issues. With a distinctive audio production technique, the show seeks to explore significant, complex issues such as "time" and "morality" in an accessible and lighthearted manner.
Radiolab has received a lot of praise from critics and listeners alike. The show has around 1.8 million listeners, with the majority of them accessing it via podcasts. It has earned praise as one of the most inventive broadcasts on American radio, alongside This American Life.
Over 95% of listeners said the science-based material covered on Radiolab was accessible, according to a study conducted by Multimedia Research (supported by the National Science Foundation) in 2007–2008. Additionally, more than 80% of listeners said the program's pace was thrilling, and more than 80% said the layering of interviews was interesting.
Listen to Radiolab 
16) Dateline NBC
Estimated Net Worth: $34,600
Dateline NBC is a weekly American television news/magazine/reality legal show broadcasted on NBC. It used to be the network's flagship general interest news magazine, but it now focuses primarily on true crime stories, with only sporadic episodes on other subjects.
Listen to Dateline NBC 
17) Fresh Air 
Estimated Net Worth: $10 million 
Fresh Air is a show that features intimate conversations with Terry Gross, one of today's biggest luminaries. From WHYY, the weekday magazine, this podcast features contemporary arts and issues and is one of public radio's more popular programs.
Listen to Fresh Air 
18) Armchair Expert with Dax Shepard 
Estimated Net Worth: $9 million 
Armchair Expert is a weekly podcast co-hosted by American actors Dax Shepard and Monica Padman. Every episode features both hosts interviewing celebrities, journalists, and academics about "the messiness of being human." It premiered in 2018 and has appeared on Vulture's list of 2018's best comedy podcasts.
Listen to Armchair Expert 
19) Conan O'Brien Needs a Friend 
Estimated Net Worth: $12 million 
The podcast is hosted by American comedian and talk show host Conan O'Brien. It premiered in 2018 when his talk show was on hiatus. In this show, co-hosts Sona Movsesian and Matt Gourley join O'Brien and all three of them talk to comedians and actors in the industry.
Conan O'Brien Needs a Friend has received positive reviews from critics and is one of the top podcasts on iTunes. Rather than the heavily choreographed talk show conversations we're used to, listeners of the podcast are treated to a much more vulnerable side of the hosts and their guests,
Listen to Conan O'Brien Needs a Friend 
20) The Dave Ramsey Show 
Estimated Net Worth: $10 million 
The Dave Ramsey Show is a three-hour, self-syndicated radio program, and podcast hosted by finance author and speaker Dave Ramsey. As of 2020, it was one of the top five most listened-to radio shows.
Throughout the show, Ramsey focuses on the theme of finance along with money-related Christian philosophy. He also discusses life and money-related issues with callers. The program initially premiered in 1992 but became a podcast in 2020. You can find The Dave Ramsey Show on more than 600 stations and it is also available on podcast via iTunes.
Listen to the Dave Ramsey Show 
21) The Dan Bongino Show 
Estimated Net Worth: $8 million 
Daniel Bongino is an American right-wing political commentator, radio show host, and author who currently hosts The Dan Bongino Show on Fox Nation and Westwood One radio affiliates. He also hosts Unfiltered with Dan Bongino on Fox News.
His podcast episodes last an hour and can be found on podcast streaming platforms everywhere.
Listen to The Dan Bongino Show 
22) H3 podcast 
Estimated Net Worth: $14.5 million 
Hosted by YouTubers Ethan and Hila Klein, H3 Podcast is a tri-weekly podcast that includes similar content from their YouTube channel where they satirize internet culture. The flagship podcast features conversational interviews with Ethan and includes H3 After Dark, an unscripted current affairs podcast hosted by the couple. They also host Content Court, a narrative podcast that examines controversial internet personalities. In September 2020, the podcast introduced the popular series Frenemies with Trisha Paytas. However, it ended in June 2021 after Paytas voiced disagreements with the podcast's production team and their co-host.
Since late 2020, the podcast channel has been one of the highest-ranking podcasts in the US. Additionally, Edison Research ranked it the 27th US Podcast from mid-2019 through mid-2020.
Listen to H3 Podcast
23) Criminal 
Estimated Net Worth: Unreported 
Criminal is an independently-produced podcast that focuses on true crime. Every episode tells a different story across a wide range of topics. It has earned the title of "the best new radio show in America" from The Huffington Post, "the thinking person's true-crime podcast" from The News & Observer, and "the purist's true-crime series" from Time.
The podcast has won the 2018 and 2019 Webby Awards for Podcasts and Digital Audio and the 2020 Webby Award for Crime & Justice in the podcast category.
Listen to Criminal 
24) Morbid: A True Crime Podcast 
Estimated Net Worth: $4 million 
Hosted by Alaine Urquhart and Ashleigh Kelly, Morbid: A True Crime Podcast is an American true crime anthology podcast. It premiered in 2018 and has been highlighted on podcast lists by Erie Reader, Vogue, The Post, and Bleeding Cool. The hosts of this show also started a podcast network called Morbid Network. There are five podcasts under the network. They also run a podcast in partnership with Parcast called Crime Countdown.
Listen to Morbid: A True Crime Podcast 
25) WTF with Marc Maron Podcast 
Estimated Net Worth: $4 million 
Hosted by stand-up comedian Marc Maron, the weekly podcast and radio show was launched in 2009. WTF has gotten tons of positive reviews, including accolades from The New York Times and Entertainment Weekly praising it. It receives over 220,000 downloads per episode on average, and the show was said to have reached 100 million downloads by December 9, 2013. WTF was ranked #1 on Rolling Stone's list of The 20 Best Comedy Podcasts Right Now in 2014. In April 2021, the Podcast Academy for Excellence in Audio (The Ambies) announced that Maron and his producer Brendan McDonald would receive the first-ever Governor's Award for their work on WTF.
Listen to WTF with Marc Maron 
26) The Michelle Obama Podcast 
Estimated Net Worth: $110 million 
This show was founded by former US President Barack Obama and former First Lady Michelle Obama. Higher Ground Productions signed a multi-year deal with Netflix to create scripted and unscripted film and television projects. In June 2019, Spotify announced its partnership with the company to produce Spotify-exclusive podcasts. The first of these was The Michelle Obama Podcast launched in 2020.
Listen to The Michelle Obama Podcast 
27) TED Talks Daily 
Estimated Net Worth: $22.38
Hosted by journalist Elise Hu, the podcast releases new episodes every weekday talking about thought-provoking ideas on everything from Artificial Intelligence to Zoology and everything in between. Every episode features some of the world's leading thinkers and creators.
Listen to TED Talks Daily 
28) Hidden Brain 
Estimated Net Worth: $1 million 
Hosted by NPR social science correspondent Shankar Vedantam, the podcast links to research from psychology and neurobiology with findings from economics, anthropology, and sociology, among other fields. It is designed to help curious people understand the world and themselves. Through science and storytelling, Hidden Brain examines the unconscious patterns that drive human behavior and the biases that shape people's choices and decisions.
Listen to Hidden Brain 
29) Impaulsive with Logan Paul 
Estimated Net Worth: $19 million 
Impaulsive is a podcast launched in 2018 by American YouTuber and social media personality Logan Paul. Even though he's had to deal with quite a few controversies, the podcast has gained 3 million followers on YouTube. In Impaulsive, he brings in other social media personalities and has conversations related to the industry.
Listen to Impaulsive 
30) Bill Simmons Podcast 
Estimated Net Worth: $19 million 
Bill Simmons is an American sports analyst, author, podcaster, and former sportswriter who is the founder of The Ringer's sports and pop culture website. Before launching his website, he hosted his podcast on ESPN.com. After he launched his website and media group, he also launched several podcasts that focused on different aspects of sports, pop culture, and technology.
Listen to Bill Simmons Podcast 
---
Before you read further
We at Pressfarm believe that everyone should have a fair shot at easy PR and access to journalists. Our experts collaborate with you to help you take your company to the next level and bring more visibility to your company.
---
31) Freakonomics Radio 
Estimated Net Worth: $2 million
Freakonomics Radio is an American public radio program that discusses socio-economic issues for a general audience. It is a spinoff of the book Freakonomics and is also distributed as a podcast. It is among the most popular podcasts on iTunes. The podcast can be found on iTunes, Spotify, Google Play, and the Freakonomics website.
Listen to Freakonomics Radio 
32) The Joe Budden Podcast with Rory & Mal 
Estimated Net Worth: $6 million 
Formerly known as I'll Name This Podcast Later, The Joe Budden Podcast is a talk and music podcast covering various topics ranging from music to sports. It primarily focuses on hip-hop/R&B and the events that pertain to the genre. It began in early 2015, and the podcast has been sponsored by Cash App since October 2020.
The show has featured musicians and music industry guests like Nicki Minaj, Chance the Rapper, and Cardi B. It has received positive reviews, and The Source has called host Budden a "natural fit" in the world of podcasting.
Listen to The Joe Budden Podcast 
33) The Rachel Maddow Show 
Estimated Net Worth: $90 million 
The Rachel Maddow Show is an American liberal news and opinion television program hosted by Rachel Maddow. Maddow gained her public profile through her frequent appearances as a progressive individual on shows aired by MSNBC. The broadcast is now available on msnbc.com, audio podcast, video podcast, text transcript, YouTube, and weblog.
Listen to The Rachel Maddow Show
34) SmartLess 
Estimated Net Worth: $15 million 
Will Arnett, Jason Bateman, and Sean Hayes host the SmartLess podcast. The first episode debuted on July 20, 2020, and new episodes are released every Monday. Each episode begins with one of the hosts introducing a surprise guest to the other two hosts. When the mystery guest is revealed, the three hosts begin interviewing them.
The podcast was signed with Creative Artists Agency in May 2021. Amazon.com, Inc. paid around US$80 million for the podcast in June 2021. The podcast will be available on Amazon Music and Wondery+ one week before other podcast and streaming platforms as part of the deal. Discovery+ ordered two documentary-style specials in August 2021 to follow Arnett, Bateman, and Hayes on their podcast's North-American tour. The specials include behind-the-scenes footage and celebrity interviews during the podcast's six-city tour in February 2022. The docuseries is available on Discovery+.
Listen to SmartLess 
35) The Moth 
Estimated Net Worth: Unreported 
The Moth is a New York City-based non-profit organization dedicated to the art and craft of storytelling. The organization, founded in 1997, hosts a variety of theme-based storytelling events across the United States and abroad, often featuring prominent literary and cultural figures. The Moth produces a weekly podcast and, in 2009, launched The Moth Radio Hour, a national public radio show that won a Peabody Award in 2010. The Moth has published three books: The New York Times Paperback Nonfiction Best-Seller List ranked The Moth: 50 True Stories at #22; All These Wonders: True Stories about Facing the Unknown (2017); and Occasional Magic: True Stories About Defying the Impossible (2017).
Listen to The Moth 
36) Code Switch 
Estimated Net Worth: Unreported 
Code Switch is NPR's race and culture outlet, as well as a weekly podcast. It started in 2013 with a blog and contributions to NPR radio shows. The Code Switch podcast debuted in 2016. It became one of NPR's most popular podcasts after the George Floyd protests.
Harvard's Neiman Lab described the Code Switch project as a "forward-thinking effort given the rapidly changing demographics in the US. Code Switch has grown into a place where reporters approach issues around race with nuance, whether that's the myth of the colorblind millennial, or going deep on the hit Broadway musical Hamilton." The outlet has also attracted attention for its reporting and commentary on a variety of topics, including sports and reality television, as well as the Supreme Court.
Listen to Code Switch
37) The Breakfast Club 
Estimated Net Worth: $4.04 million 
The Breakfast Club is a New York City-based American syndicated radio show hosted by DJ Envy, Angela Yee, and Charlamagne Tha God. You can find the show on over 90 radio stations across the country, and Revolt broadcasts it every morning. Common topics of discussion include celebrity gossip (especially in the hip hop industry), progressive politics, and sexual and dating issues.
Listen to The Breakfast Club
38) Reply All 
Estimated Net Worth: Unreported 
Reply All is a Gimlet Media podcast that tells stories about how people shape the Internet and how the internet shapes, people. It was founded in 2014 by the show's original hosts, P. J. Vogt and Alex Goldman, who had previously hosted the WNYC technology and culture podcast TLDR. In 2021, Vogt left the show, and Emmanuel Dzotsi took his place.
Listen to Reply All 
39) Rush Limbaugh – Timeless Wisdom 
Estimated Net Worth: Unreported 
Rush Hudson Limbaugh was a conservative political commentator, author, and television show host in the United States. He was best known as the host of The Rush Limbaugh Show, which aired on AM and FM radio stations across the country.
During the 1990s, Limbaugh rose to prominence as one of America's most prominent conservative voices, hosting a national television show from 1992 to 1996. He was one of the highest-paid figures in American radio history, with earnings of $84.5 million, as reported by Forbes in 2018. According to Talkers Magazine, Limbaugh's show had a cumulative weekly audience of 15.5 million listeners in December 2019, making it the most-listened-to radio show in the country.
Listen to Rush Limbaugh – Timeless Wisdom 
40) VIEWS with David Dobrik and Jason Nash 
Estimated Net Worth: $7 million 
VIEWS with David Dobrik & Jason Nash is a podcast hosted by David Dobrik, Slovak-American YouTuber, and Jason Nash, his co-host. The first episode was released on May 15, 2017, and it debuted in the podcast section of the iTunes chart at number two. As of June 2021, there were 199 episodes. Cadence13 is the publisher. Dobrik launched his third YouTube channel, Views Podcast, in September 2018, where he posts the video version of his podcast. The Verge credited Dobrik with successfully integrating the podcast genre into YouTube.
Listen to VIEWS 
41) NPR News Now
Estimated Net Worth: Unreported 
Another sector of NPR, NPR News Now, is a podcast that covers morning and evening news in just five minutes. It is updated hourly.
Listen to NPR News Now
42) The Mark Levin Show
Estimated Net Worth: $50 million
Mark Levin hosts The Mark Levin Show, a conservative talk radio show. According to Talkers Magazine, the program is broadcast nationwide on Westwood One and reaches seven million weekly listeners. Levin's listenership is tied with The Glenn Beck Radio Program for the fourth-most-listened-to-talk radio show in the United States and the seventh-most-listened-to radio program in the United States where all radio formats are combined under Talkers.
Listen to The Mark Levin Show 
43) Bill Burr's Monday Morning Podcast 
Estimated Net Worth: $9 million 
Bill Burr, an American comedian, actor, and celebrity podcaster host the Monday Morning Podcast twice weekly. It was self-produced from May 2007 to October 2012, when it joined the All Things Comedy podcast network, which Burr and Al Madrigal founded. Burr speaks freely and off-the-cuff about his past and recent experiences, current events, going on tour, and sports and offers advice to listeners' questions during each one-hour episode.
Listen to Monday Morning Podcast 
44) How I Built This with Guy Raz 
Estimated Net Worth: Unreported 
Another podcast from NPR, How I Built This, is hosted by Guy Raz. He dives into stories behind some of the world's best-known companies. The narrative journey focuses on innovators, entrepreneurs, and idealists and the movements they built.
Listen to How I Built This 
45) Lore
Estimated Net Worth: Unreported 
Lore is a podcast dedicated to true horror stories. Each episode examines historical events that reveal the dark side of human nature (usually through folklore) and is presented in a style that has been compared to a campfire experience. Aaron Mahnke created the series as a marketing experiment in 2015, and it won the iTunes "Best of 2015" Award. In July 2016, the Academy of Podcasters honored the podcast with the "Best History Podcast" award. The Atlantic and Entertainment Weekly both included the podcast in their top lists at the end of 2016. The series has 5 million monthly listeners as of October 2017.
Listen to Lore 
46) Last Podcast On The Left 
Estimated Net Worth: Unreported 
The Last Podcast on the Left is a weekly podcast hosted by Ben Kissel, a comedian and podcast host; Marcus Parks, a podcast producer and researcher; and Henry Zebrowski, a comedian, and actor. The episodes feature serial killers, conspiracy theories, UFO sightings, ghosts, and readings of fan-submitted creepypastas. The title references the horror film The Last House on the Left, which was released in 1972.
Listen to Last Podcast On The Left 
47) NPR Politics Podcast 
Estimated Net Worth: Unreported 
Yet another podcast hosted by NPR, the NPR Politics Podcast, is hosted every weekday where the platform's best political reports explain significant news out of Washington and the campaign trail.
Listen to NPR Politics Podcast
48) Dr. Death 
Estimated Net Worth: Unreported 
Dr. Death – a podcast produced by Wondery that focuses on heinous medical malpractice cases – premiered in 2018. It is hosted and reported by Laura Beil. Every season is focused on a specific medical professional who caused harm to their patients. The first three seasons feature 25 episodes that tell the story of Texas surgeon Christopher Dutch, who was convicted of malpractice after his patients were left badly injured after he operated on them; Farid Fata, a hematologist and oncologist sentenced for prescribing chemotherapy to patients who did not have cancer or who had conditions that did not warrant it; and Paolo Macchiarini, a Swiss-born Italian thoracic surgeon who became known for research fraud and unethical experiments.
The podcast has received mostly positive reviews and was called "The Scariest Podcast of The Year" by GQ Magazine.
Listen to Dr. Death
49) The Way I Heard It with Mike Rowe 
Estimated Net Worth: $35 million 
Mike Rowe is an American television host and narrator. He is well known for his work on the Discovery Channel series 'Dirty Jobs' and 'Somebody's Gotta Do It,' developed initially for CNN. His podcast, The Way I Heard It gives listeners a different perspective on pop culture, politics, history, and Hollywood.
Every podcast episode is a true story about a real person, place, or thing filled with facts that listeners might not know about. The reason for its success is due to Mike's signature blend of charm, wit, and ingenuity while telling stories that are full of surprising revelations, sharp observations, and intimate, behind-the-scenes stories drawn from his own life and career.
Listen to The Way I Heard It 
50) Pardon My Take 
Estimated Net Worth: $2 million 
PMT is a comedic sports podcast released three times a week by Barstool Sports. The podcast is hosted by Dan "Big Cat" Katz and PFTcommenter. It made its debut on February 29, 2016, and was ranked number one on iTunes in the US by March 2, 2016.
The podcast's average audience for every episode is between 750 thousand and 1.5 million people. Pardon My Take was recognized as one of Apple's finest podcasts of 2016, while Katz and PFT Commenter were selected as the top sports media personalities under 40 by The Big Lead in 2017. In 2018, Pardon My Take was the 14th most downloaded podcast on iTunes.
Most of the episodes consist of three parts. It starts with the hosts opening the show with a recap of current sports news, followed by an interview with a sports personality, celebrity, journalist, or athlete. The show closes with a collection of original segments that vary from episode to episode.
Listen to Pardon My Take
51) The Adam Carolla Show
Estimated Net Worth: $5 million 
The Adam Carolla Show (formerly The Adam Carolla Podcast) is a comedy podcast hosted by Adam Carolla, a comedian and radio talk show host. The first episode was released online on February 23, 2009. The show is under Carolla Digital's flagship program.
After receiving 59,574,843 unique downloads between March 2009 and March 16, 2011, the show was named the Guinness World Record holder for the most downloaded podcast in May 2011. Edison Research has also found that the podcast was the world's 49th most listened-to podcast in 2020.
Listen to The Adam Carolla Show
52) Chapo Trap House 
Estimated Net Worth: $2 million 
Chapo Trap House is an American political podcast launched in March 2016 and hosted by Will Menaker, Matt Christman, and Felix Biederman, with Amber A'Lee Frost as a recurring co-host. Chris Wade currently produces it.
Typically, a Chapo Trap House episode lasts between 60 and 80 minutes. Episodes normally include an interview with a guest and commentary on current events. The show's weekly episodes are available on SoundCloud, Spotify, and iTunes, among other platforms. Patreon subscribers who contribute at least $5 per month get access to weekly premium bonus episodes. By May 2017, the show had amassed a monthly subscription base of more than $60,000 and is the highest-earning Patreon user, earning nearly $160,000 per month as of February 2020. Geek.com cited the show's premium content as an example of a viable revenue model for new podcasters.
Listen to Chapo Trap House 
53) The Tim Dillon Show 
Estimated Net Worth: $4 million 
Tim Dillon was one of the highest-paid podcasters in 2022. Before the 2008 financial crisis, he was known for selling subprime mortgages, but he rose from the ashes to become a stand-up comedian. He shot to the top of the podcast industry by consistently producing entertaining content that attempts to solve some of the world's most ambitious and complicated mysteries. Practical conspiracies are Dillon's specialty. He has investigated some of humanity's darker themes, ranging from human trafficking, as inspired by the 2014 documentary Who Took Johnny, to the recent mystery surrounding financier Jeffrey Epstein's demise.
Dillon was the show's only host at first, but he now co-hosts with his confidante, Ray Kump.
Tim Dillon demonstrates the benefits and capabilities of subscriber-based sites like Patreon by releasing shows on YouTube on a weekly basis and making regular appearances on The Joe Rogan Experience.
Listen to The Tim Dillon Show
54) True Crime Obsessed 
Estimated Net Worth: $1.2 million 
Patrick Hinds and Gillian Pensavalle, hosts of the True Crime Obsessed podcast, are among the highest-paid podcasters in 2023. It takes a unique personality and engaging stories to rank among the most successful crime podcasts, especially when so many true crime podcasts are available. Patrick Hinds is known as a legacy podcaster for his shows Theater People and Broadway Backstory. He teamed up with Gillian Pensavalle, the host of The Hamilcar, and a fellow podcaster and actor.
With their combined efforts, the group of energetic hosts has created a viral podcast focusing on true crime, contemporary conspiracies, and celebrity mysteries available on multiple platforms. The group has become one of the most well-known and distinct true crime podcasts to date, with episodes dedicated to Ted Bundy and Jonestown.
Listen to True Crime Obsessed 
55) Smart Passive Income
Estimated Net Worth: $2 million 
Pat Flynn is the host of Smart Passive Income, a weekly podcast that outlines strategies and offers advice for people who want to start their own online business. He was laid off from his job and forced to start his own online business due to the financial crisis that loomed in 2008.
His weekly viewers benefit from his first-hand experiences, including interviews with various business owners and start-ups who share their wealth of knowledge about the business world. The podcast can be found on YouTube and Apple Podcasts, among other places.
Listen to Smart Passive Income 
56) Flagrant 2
Estimated Net Worth: $1.2 million 
Andrew Schulz and Akaash Singh are among the highest-paid podcasters in 2023 and the hosts of Flagrant 2, a Patreon-specific podcast that makes its content available to the three tiers of accessible content for its subscribers. Flagrant 2 provides a brief relief for fans and followers seeking to avoid the myriad of pandering podcasts within the context of cancel culture.
Listen to Flagrant 2 
57) Cum Town
Estimated Net Worth: Unreported 
Cum Town is a comedy podcast based in New York City and hosted by Nick Mullen, Stavros Halkias, and Adam Friedland. It was the eighth most popular podcast on Patreon in 2021.
The length of each episode is usually between 60 and 90 minutes. Mullen is the show's primary host and producer, with Halkias serving as a co-host. Friedland, who makes the fewest appearances of the three, first appeared in the second episode of the show and is frequently the target of Mullen and Halkias' jokes and insults. The hosts' aimless conversation gives way to improvised comedic characters and sketches, and the content is almost entirely unplanned.
The show's weekly episodes are available on Spotify, Apple Podcasts, and Audible, among other platforms. Patreon subscribers who contribute at least $5 per month get access to weekly premium bonus episodes.
Listen to Cum Town
58) Tiny Meat Gang
Estimated Net Worth: Unreported 
Cody Ko and Noel Miller, the two members of the rap duo Tiny Meat Gang, created and hosted the Tiny Meat Gang podcast. New episodes typically air on Thursday nights. They also release a bonus episode each week for their Patreons.
The podcast's YouTube channel was launched on October 16, 2017.
Listen to Tiny Meat Gang
59) Ctrl Alt Delete
Estimated Net Worth: Unreported 
Ctrl Alt Delete is considered one of the best podcasts for modern career advice. In this podcast, London-based Emma Gannon speaks with a diverse group of actors, writers, and other creatives about how social media and the Internet have influenced their lives and careers. The Ctrl Alt Delete podcast, named after Emma's first book How I Grew Up Online benefits from Emma's high energy and enthusiasm as she invites guests to share their best stories and advice.
Listen to Ctrl Alt Delete
60) Louder than a Riot
Estimated Net Worth: Unreported 
Hosted by Rodney Carmichael and Sidney Madden, Louder Than A Riot offers an interesting perspective on the connection between the mass adoption of hip-hop culture and mass incarceration in America. The podcast has covered stories of well-known black rappers like Mac Phipps and the late Nipsey Hussle to shed light on how rap culture and the justice system feed off each other.
Listen to Louder Than A Riot
61) On Purpose
Estimated Net Worth: $18 million
Jay Shetty is well-known for his wisdom, self-development tips and insights on life in general. His podcast, On Purpose is one of the most-listened to podcasts all over the world because he not only shares nuggets of wisdom but also shares perspectives from well-known figures. He's interviewed people like Oprah Winfrey, Gary Vaynerchuk, and John Legend on productivity, relationships, health and everything in between.
Listen to On Purpose
62) Scamfluencers
Estimated Net Worth: Unreported 
In Scamfluencers, co-hosts Scaachi Koul and Sarah Hagi explore the world of social media and influencers and examine why human beings have fallen for countless scams over the lifetime of the internet. With episodes about the Black Swan Murder to fake social influencers and a daring Hollywood Ponzi scheme, Scamfluencers takes listeners through the emotional rollercoaster that every scam unleashes on the unsuspecting victims.
Listen to Scamfluencers
63) Up First
Estimated Net Worth: Unreported 
Up First from NPR delivers the three biggest news stories of each day – in 10 minutes. If you'd like to get bite-sized versions of the headline stories of the day, this is a great podcast to tune into on your commute to work or while getting ready for the day. Tune in on weekdays at 6 a.m. ET, with hosts Leila Fadel, Steve Inskeep, Rachel Martin and A Martinez. You can also catch up with the news on Saturdays at 8 a.m. ET, with Ayesha Rascoe and Scott Simon.
Listen to Up First
64) We Can Do Hard Things
Estimated Net Worth: $4 million
We Can Do Hard Things is where podcast listeners all over the world flock for insight and wisdom from Glennon Doyle, author of Untamed – the book that inspired millions in the midst of the COVID-19 pandemic. The title of this podcast, inspired by a quote from the book, perfectly summarises the theme of the podcast – the struggle of living and the search for joy in the midst of this struggle.
Listen to We Can Do Hard Things
65) Anything Goes
Estimated Net Worth: $12 million
Anything Goes with Emma Chamberlain is a collection of random thoughts, covering everything from philosophy to flashbacks to her past, insightful interviews and everything in between. As the title suggests, anything goes on this podcast, and the unpredictability is what keeps things exciting.
Listen to Anything Goes
66) The Journal
Estimated Net Worth: Unreported 
The Journal, with hosts Kate Linebaugh and Ryan Knutson tells news stories through the lenses of money, business, and power. This podcast is a joint project between the Wall Street Journal and Gimlet Media and delves into news stories like the Ukrainian war, the future of Bitcoin, and the recent earthquakes in Turkey and Syria.
Listen to The Journal
67) The Always Sunny Podcast
Estimated Net Worth: $2 million
The Always Sunny Podcast offers a nostalgic look back at all fifteen seasons of the popular TV show It's Always Sunny in Philadelphia, with creators and stars Glenn Howerton, Charlie Day, and Rob McElhenney, as well as writer Megan Ganz. As they rewatch each episode, the hosts reminisce about their almost twenty-year old partnership and the way things have changed since the show started in 2005.
Listen to The Always Sunny Podcast
68) Serial Killers
Estimated Net Worth: Unreported 
The Serial Killers podcast is a favorite among true crime fans because it offers a detailed and horrifying exploration of what turns someone into a predator. With episodes featuring the gruesome crimes of Jeffrey Dahmer and John Wayne Gacy to lesser-known killers like "Death House Landlady" Dorothea Puente, Serial Killers offers chilling insight into where it all went wrong.
Listen to Serial Killers
69) Maintenance Phase
Estimated Net Worth: Unreported 
In Maintenance Phase, co-hosts Michael Hobbes and Aubrey Gordon challenge and busts hundreds of myths that have clouded our judgement of wellness products, health fads and nutrition for years. Tune in and find out why the scientific advice that we follow every day can be very misleading and even dangerous.
Listen to Maintenance Phase
70) Scam Goddess
Estimated Net Worth: Unreported 
Each week on Scam Goddess, host Laci Mosley (aka the Scam Goddess) examines the art of scamming in a performance that combines elements of a criminal investigation and comedic commentary. The Scam Goddess dives deep into the twisted minds of 'the Deutschland Duper', 'the Hoodwinking Hipster' and more notorious names in the world of crime.
Listen to Scam Goddess
71) Beautiful Stories from Anonymous People
Estimated Net Worth: Unreported 
For one hour on each episode, Beautiful Stories from Anonymous People host and comedian Chris Gethard has a phone conversation with anonymous people, and no conversation is off topic. From stories about surviving a mass shooting, shocking confessions, dark family secrets, and philosophical discussions, Chris has heard it all. With the vivid stories his guests are always telling, it's no wonder that he has a hard time being the first to hang up.
Listen to Beautiful Stories from Anonymous People
72) How Did This Get Made?
Estimated Net Worth: Unreported 
How Did This Get Made is a hilarious take on movies that are so bad that – somehow – they manage to be good. You know the movies we're talking about. To put this into perspective How Did This Get Made hosts Paul Scheer, Jason Mantzoukas and June Diane Raphael (and their guests who always have a good sense of humour) have talked about the making of Jingle All The Way (starring Arnold Schwarzenegger). They've also explored the making of Bugsy Malone, Patrick Swayze's Road House, and other certifiably weird movies.
Listen to How Did This Get Made?
73) No Such Thing As a Fish
Estimated Net Worth: $1 – 2 million 
No Such Thing As a Fish is a podcast from the team behind the popular BBC Show, QI. In this podcast, the hosts – Dan Schreiber, James Harkin, Andrew Hunter Murray, and Anna Ptaszynski talk about gobsmacking discoveries and share eyebrow-raising facts. In a nutshell, listening to No Such Thing As a Fish is like walking into a room filled with trivia champs who are eager to share everything they know – from tales about red pandas to discussions on simulated seasickness.
Listen to No Such Thing As a Fish
74) Table Manners
Estimated Net Worth: $6 million 
Table Manners is a collection of intriguing conversations between hosts Jessie and Lennie Ware and a selection of celebrities over a meal at Jessie's dining table. Every week, a celebrity drops by to enjoy a chat to go along with a meal prepared by Jessie and her award-winning chef of a mother. From funny anecdotes to surprising inside looks at the lives of  seemingly extraordinary people like Ed Sheeran and David Schwimmer, Table Manners has it all.
Listen to Table Manners
75) Off Menu
Estimated Net Worth: Unreported
Hosted James Acaster and Ed Gamble is built on a simple but amusing premise. Every week, the hosts invite a celebrity to their imaginary restaurant and encourage them to order their dream dish from a fictional menu. This premise creates room for both hilarity and deep meaningful conversations.
Listen to Off Menu
76) The Hamilcast
Estimated Net Worth: Unreported
The Hamilcast is a celebration of Lin-Manuel Miranda's Broadway hit Hamilton and all the creative minds that came together to turn the musical into a show that people all over the world have enjoyed over the years. In this podcast, host Gillian Pensavalle interviews her husband and co-host Michael Paul Smith, cast members, Hamilton fans and the creator himself about the inner workings of the show and the logistics of going global.
Listen to The Hamilcast
77) You're Wrong About…
Estimated Net Worth: Unreported
Journalists Sarah Marshall and Michael Hobbes are fascinated by the past and how the public remembers major historical moments. Every week on You're Wrong About, they select a major historical moment and explain how it's been miscast in the public imagination. This podcast has attracted guests from around the world – people who are eager to learn something new, hear different perspectives on a well-known issue, or simply laugh.
Listen to You're Wrong About
78) The Sporkful
Estimated Net Worth: $100,000
The Sporkful is a podcast about food, but it's not for foodies – it's for eaters. Hosted by Dan Pashman, the inventor of the new pasta shape cascatelli, this podcast looks at food through the lenses of culture, science, history, race, economics and more. The podcast is spans the range between serious conversations about food and culture, and entertaining debates about the best way to layer a peanut butter and jelly sandwich, and more. The Sporkful is a proud winner of the James Beard Award, Webby Award, and Saveur Award for Best Food Podcast.
Listen to The Sporkful
79) Just the Gist
Estimated Net Worth: Unreported
If there's an interesting story that everyone's talking about Just the Gist has probably already covered it. Except, unlike everyone else Just the Gist hosts Rosie Waterland and Jacob Stanley will only tell you what you need to know. By focusing on the juiciest and most entertaining details of conspiracy theories, celebrity gossip and more, Rosie and Jacob will help you to be the most interesting person in the room.
Listen to Just the Gist
80) Sawbones: A Marital Tour of Misguided Medicine
Estimated Net Worth: Unreported
In Sawbones Dr. Sydnee McElroy and her husband Justin McElroy explore different medical practices from two different angles: educational and entertaining. Dr. Sydnee McElroy explores the history behind each practice and Justin McElroy provides comedic commentary that highlights the strange, gross and sometimes plain dangerous ways in which we've tried to fix people.
Listen to Sawbones
Conclusion: 
While podcasting may not be the first choice for people seeking entertainment, its popularity has been rising due to the sheer number of topics and niches that a podcast can cover. From true crime to politics, many companies and individuals have realized the true potential of communicating with their audiences in a more conversational and unfiltered way. Based on the concept that people are always on the go, podcasts are a great way to consume information without taking time out of a busy schedule. Ultimately, however, with so many out there at the moment, to be successful, podcasts need to be able to resonate with audiences and provide them with valuable information. The podcasts listed above earn the money that they do due to their ability to attract audiences.
How Pressfarm can help you reach your target audience
If you're launching a podcast, you'll want to tell your target audience about it. Armed with PR specialists, expert writers, and certified designers, Pressfarm can help you generate publicity for your podcast. With a professional press release, some engaging guest posts, and an eye-catching media kit, Pressfarm can help you capture media attention with the news about your podcast. This content is also designed to excite your target audience and drive them to your podcast.
By distributing your content to the right media outlets and startup directories, Pressfarm can boost your online visibility. Once the Pressfarm team has helped you to rank in relevant search results across search engines like Google, Yahoo and Bing!, it'll be easier for your target audience to find your podcast through organic searches for topics that you cover.
Finally, with a custom media list built specifically for your niche, Pressfarm can help you to keep doing media outreach for your podcast long after your PR campaign is over. With an affordable PR package, you can put your podcast in front of the right audiences.