In the sports industry, having a strong public relations strategy is crucial. Simply relying on statistics is not enough to attract fans, sell tickets, and boost merchandise sales. It is important to go beyond numbers and engage in storytelling that creates a loyal fan base. This is why many sports teams, athletes, coaches, and broadcasters choose to work with PR specialists who can effectively share stories and connect with audiences on both an emotional and statistical level. By combining these elements, a sports brand can greatly enhance its reputation and success.
Sports public relations is a type of public relations that uses earned media outlets such as broadcast, print, radio, and the internet to promote teams, individual athletes, and sports organizations. Editors, producers, reporters, writers, and anchors at ESPN, Sports Illustrated, and the Sports Journal are just some of the people you need to have in mind when pitching your sports stories. Athletes are constantly scrutinized by the media, their fans, and the general public. As a result, strategic media management is critical. Sports public relations aims to improve and maximize an athlete's image, allowing them to concentrate solely on their craft.
While it may seem like an afterthought to some, most major sports teams and athletes have a PR team that knows exactly how to create newsworthy content about them, engage the media and create a positive brand image. Ideally, a sports PR specialist should fill several roles throughout their career, including statistician, game day and site manager, and travel advisor. Given that content travels faster and farther than ever before, today's sports PR professionals serve national and international audiences.
Sports public relations for relationship management
In essence, a sports public relations specialist helps to facilitate relationships on all levels, including those between media and teams/athletes, fans, and businesses. The aim of sports PR is to assist in developing and maintaining those bonds. This takes time, patience, listening skills, and an understanding of everyone's roles.
This is why sports PR professionals need to be able to multitask skillfully. After all, their everyday responsibilities include addressing athletes' concerns about media availability. This requires someone who is organized. Everyday responsibilities can also include collaborating with reporters on a complete story requiring one-on-one interviews. With all of this in mind, an experienced sports PR staffer is also responsible for preparing athletes and coaches for interviews. This may include identifying industry-specific issues and potential questions and rehearsing responses.
Ultimately, sports PR has the power to shape public opinion about an individual athlete, a sports team, or a sports organization. In general, each group can sculpt reputations, influence public opinion, shape values, and connect brands with the stories they tell, all with the help of public relations. They can transform communities through their words and actions.
Now that we have seen what sports PR is, let's see how the right strategy can help you do better work for your clients.
1) Fosters relationships between an organization and the public 
Strong media relationships are critical in any industry. Even so, they are especially crucial in sports PR. This is because they aid in building public understanding, acceptance, and communication with sports organizations, athletes, and leagues.
2) Builds credibility 
When you're running a sports team or a sports brand, a good reputation is crucial. Teams and players want to work with someone who can tell their stories best. On the other hand, the media wants to work with someone who is dependable, knowledgeable, and who gets results. Credibility is also an important consideration when hiring a PR firm to take care of your sports public relations needs. In addition, it's critical to research each media outlet and determine which stories would be the most appropriate.
If you're looking for a credible public relations firm that can help you build your credibility, you should consider hiring the experts at Pressfarm to take care of your sports PR needs.
As a firm that specializes in generating publicity for companies of different sizes, Pressfarm can help you build a winning brand image. With a positive brand image, you can capture media attention as well as inspire and excite your target audience. Pressfarm can also build custom media lists for you and help you craft content that is sure to bring in replies from your target journalists. With a professional press release, some compelling guest posts, and a creative media kit, you can make a journalist's head turn.
On the other hand, if you'd prefer to do your own sports PR, you can sign up for a PR package and use the Pressfarm media database at no additional cost. Here, you will find comprehensive, relevant, and up-to-date information on over 1 million journalists, bloggers, and influencers across different industries. With this database, you can do your own media outreach for your brand for up to a year after you sign up.
3) Gets you in the spotlight to create publicity 
You can get your sports brand or sports team into the spotlight by attending high-profile goodwill events or partnering with well-known corporations for a common cause. At the end of the day, the more positive the image you build, the more favorable your media coverage will be.
4) Builds curiosity 
Sports PR professionals can capitalize on any semblance of public interest by keeping track of where their clients' names appear online. In order to harness these mentions and use them to build curiosity, you need to be quick and strategic. With the right technique, you can generate the right amount of popularity, credibility, and trust.
5) Maintains visibility in the media between seasons
With the right sports PR strategy, your media coverage doesn't have to end when the season is over. PR professionals can increase team and player attractiveness and team and player value and revenue by ensuring their clients have year-round credibility.
Let us now look at some of the best practices in sports PR.
1) Utilize social media 
There's no doubt that sports PR uses social media to connect with the public. This is demonstrated effectively by the number of followers that some of today's top athletes have. Using a variety of platforms helps to pique reporter interest while also increasing audience reach. This is also useful in a sporting crisis, as it allows you to reach the largest possible audience with your message. It also allows your client to keep the public up to date on professional and personal events. This is difficult to achieve through other mediums.
You can post information about your sports team's games, tickets, or honor moments such as winning news, soccer medals, trophies, etc. on social media. You will gain widespread publicity shortly.
2) Connect with fans 
Strong fan bases are devoted and eager to participate, which makes them excellent ambassadors. Fans can be reached through various means, including social events, volunteer work, social media, meet and greets, and more.
Fans have huge spending power. And they are often one of the most important revenue for a team. In addition to tickets to watch games, they are also keen to collect and buy team peripherals such as custom hard enamel pins, custom jerseys, keychains, and more. They customize these promotional gifts with your team's name, logo, and slogans. Branding your team in this way helps with attracting more fans. See more on enamelpins.com.
3) Approach crisis management with haste and caution
When a crisis occurs, make sure you're part of the current conversations. This way, you can reclaim control of a team or player's narrative and craft appropriate and placating responses. Keep in mind any potential legal ramifications. Try to alleviate them as effectively as possible by studying the media and recognizing multiple points of exposure.
4) Become familiar with media professionals from all publications 
You should concentrate on expanding your repertoire by working with a variety of publications, both national and local. Different stories are well suited for different platforms. As a result, ignoring smaller publications in favor of larger ones is never a good idea. Additionally, you should create a media list filled with relevant media professionals and journalists in your industry to help your clients to contact the appropriate media professionals.
5) Build and protect the public image 
The image in the public's mind is the image that they will remember for the rest of their lives. Always make sure you get a head start on building a team's or player's image and protect it against any inevitable slander that threatens to detract from it. By building a positive image for an athlete or a team early on, you can get ahead of any negative press they might be faced with. After all, once you've built a positive brand image for your client, people are more likely to give them the benefit of doubt when they're facing negative news coverage.
6) Identify and secure sponsorship opportunities 
Take care of locating, managing, and securing sponsorship opportunities that align with a team's or player's image. In this way, you free up your client's time while ensuring their best interests.
7) Individualize media training 
Training your clients for the media doesn't mean you have to make them sound like robots. By helping your clients to develop and master a distinctive voice, you provide them with the skills required to land more interviews on television, radio, and online media.
If you can help your clients to build a magnetic personality in front of the camera, media hosts are more likely to come back to them again and again with more interview requests.
8) Use targeted pitching
Needless to say, it's useless to promote a specific sports team or athlete to the opposition's fanbase. You need to identify your client's fans as well as where you can find them to avoid wasting time and resources on pitching to the wrong audience. You can discern and zone in on a target audience by tracking the online mileage associated with a player or team's public image. This ensures that fans stay informed about their favorite team or player and the brands associated with them.
9) Practice proactivity and reactivity 
The distinction between proactive and reactive PR is similar to the distinction between offensive and defensive plays in football. When it's time to go offensive, take a proactive approach, looking for opportunities to maintain and gain public favor. Reactive PR is used when a player or team is on the defense. This involves responding to any positive or negative media perceptions and focusing on repairing and enhancing a player's or team's reputation.
10) Compile and analyze statistics 
The difference between an educated hypothesis and a haphazard attempt comes down to paying attention to and using statistics in your everyday work. Ensure that you use tangible data to back up all your marketing decisions. This will strengthen the relationship between you and your client.
Sports PR Examples 
1) Peyton Manning's Priceless Commercials
For the past 15 years, MasterCard's slogan and commercial series have been "Priceless". They've had lots of success with this campaign and can use it in a variety of situations. Moreover, it made a lot of sense when MasterCard chose Peyton Manning as the new face of their "priceless" campaign.
Peyton Manning is a former American football quarterback who spent 18 seasons in the National Football League (NFL). He spent 14 seasons with the Indianapolis Colts and four with the Denver Broncos and is regarded as one of the best quarterbacks. Manning is also one of the most well-known players in the NFL.
Capturing footage of famous professional athletes who are known for being big, tough guys bonding while walking on the beach makes for priceless content. Peyton's ad's punchline was centered on all those who joined him, trying to understand him better so that they could dominate on the field. Ultimately, Manning was an excellent choice for the campaign.
2) This is Sportscenter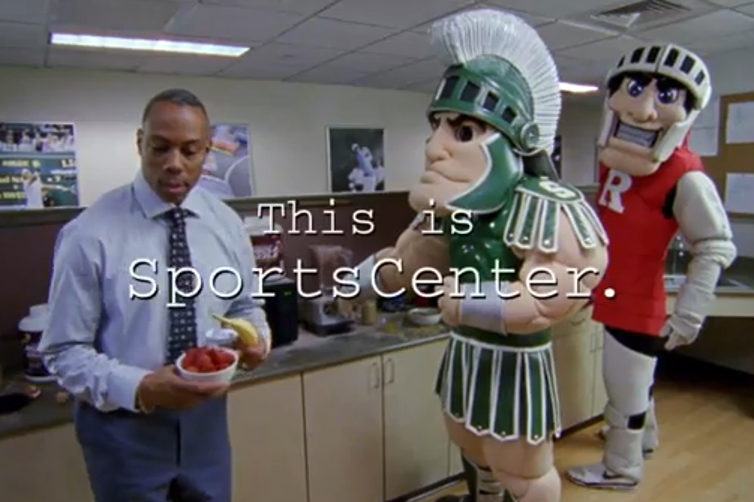 ESPN's "This Is SportsCenter" campaign is one of the longest-running in all of television history, spanning 25 years with more than 400 commercials, and featuring many of the most famous athletes of the last three decades.
This commercial campaign follows the path of ESPN's Sportscenter's mantra. In an attempt to parody Big Buddy programs, Sportscenter enlisted the help of a few major NBA players to teach toddlers about the game. Naturally, disaster ensued. Surprisingly enough, the children were not to blame. Instead, the pro athletes were shown dominating the toddlers, blocking their shots, trash-talking, and dunking in their faces in this Big Buddy commercial.
3) Under Armour
Under Armour is a new star in athletics PR compared to other sports organization powerhouses. In fact, Under Armour surpassed Adidas as the second-largest company in the athletic market in 2014, coming second to Nike. In 2015, they launched the "Rule Yourself" public relations campaign with NFL superstar Tom Brady and others to highlight the benefits of training.
"The 'Rule Yourself' campaign concept is simple: you are the sum of your training. Being disciplined with your training is the only way to improve, and it's the common thread that connects all of Under Armour's all-star athletes around the world," said Adam Peake, Executive Vice President of Global Marketing.
Conclusion
Doing PR for a sports team or an individual athlete is mostly about image management and building positive, lasting relationships with the media. With the tips above, you can help your clients to connect with their fans. You can also build a positive public image with the kind of heartfelt storytelling that builds a loyal fanbase.
---
How Pressfarm can help
For an entrepreneur, the brand image you build can determine your success or failure. At Pressfarm, we help companies define the right narrative in the media for their brand – either to improve their credibility or resolve a PR crisis. If you are an entrepreneur wondering how to improve your company's publicity, get in touch with us. We can help you craft and distribute your press releases, develop compelling guest posts and design eye-catching media kits for your brand.
Learn why we are good at what we do from our customer success stories.