Press releases are just one component of a company's overall media relations strategy. Even so, there are different types of press releases for every business announcement a company might want to make.
The purpose of a press release
A press release is usually created because a company wants to announce some news. This can be a company launch, new product launch, rebranding, or a new partnership. A press release should provide all the details required for bloggers, influencers, and media professionals to publish a story and get the company's message out there.
In the past, press releases were predominantly sent to traditional media outlets like newspapers, magazines, and television networks. However, the advancements in technology and the rise of social media platforms has changed this. Press releases can now be used directly on a company's owned media to promote their business on the internet via blogs, websites, and social networks. Some may question whether using social media is "the easy way out" or whether still calling it a news release is appropriate if it doesn't go through traditional means. Even so, social media has actually provided businesses with a more direct avenue to their existing and potential customers.
The importance of a media outreach strategy
There are certain things that businesses have to understand before even trying to write newsworthy content. Usually, creating a media outreach strategy requires the business to come up with a press release topic.
Having a clear understanding of what content needs to be written to get media coverage gives companies a guide for writing the press release, including what content should go in it, and how and to whom to send it. With so much to consider, it can be overwhelming for a startup founder to filter through everything and come up with a story while also handling other company responsibilities. For that reason, PR agencies like Pressfarm exist to take the stress out of what should be an exciting time.
Pressfarm is a PR agency that helps companies of all sizes create newsworthy content, including brand briefs, press releases, and guest posts. Companies can use their powerful, filter-based search engine to scour their media database of over 1 million journalists and find the ideal media match and reach out to their target audiences. Their PR professionals and writers also help with online press release distribution, increasing release visibility in relevant search results across major search engines.
As mentioned, before, there are different types of press releases that companies need to be aware of when trying to get media coverage.
1) General News 
General news releases are used to generate traditional coverage in all types of media. Whether paid, owned, or earned, a general news press release is a common way for businesses to get the word out there about their brand. Of course, all effective press releases should have newsworthy content that draws the media professional or target audience's attention.
2) Launch Release 
This type of press release is used when a company plans on releasing a new product, website, initiative, or anything new. It is very similar to a general news release. What makes it different is the fact that it emphasizes timelines and should help create a sense of urgency about the launch that is about to happen.
3) Event Press Release 
An event press release is used to promote an event that a company is hosting, attending, or sponsoring. These press releases are meant to raise awareness among the general public and invite members of the media to attend or cover the event. In an event press release, timing is everything. To get numbers in the door and increase attendance, companies need to plan their press releases well before the event so that enough people know about it. This will also give media professionals enough time to get the event on their busy schedule and begin preparing accordingly.
While all press releases should cover the essential questions of who, what, when, where, why, and how, companies need to think of event marketing press releases as a party invitation with all the necessary information that the party-goer needs to attend.
4) New Hire Press Release 
While this may not seem like newsworthy information to some, releasing a new hire press release helps a company build credibility, especially if their new hire is a high-level executive with plenty of experience in the field. This press release type acts as a formal announcement to inform customers, investors, and the general public about leadership's critical changes.
Companies that plan to release a new hire press release need to objectively describe what the new hire is bringing to the company to give people a better idea of what to expect from the new executive. The release should include:
Past roles.
Companies they have worked for.
Any other significant professional achievements.
5) Rebranding Press Release 
Sometimes, through no fault of their own, companies need to do a rebranding so that they are still able to stay relevant in the market. While announcing the rebranding, companies need to communicate their message to their existing customers and stakeholders effectively. A rebranding press release should specify what people can expect from the change, new pricing models, audiences served, products or features offered, or any updated visual content. It should also excite audiences by highlighting how rebranding can improve customer experience.
6) Partnership Press Release 
Much like a rebranding press release, the primary purpose of a partnership press release is to inform audiences of the upcoming changes a company is going through with a new partnership deal. Usually, both sides of a partnership have already built relationships with their customer base. This means that the company needs to write a press release that appeals to both audiences. However, since a company generally partners with brands that align with its values, it can communicate to its audience exactly what they can expect. Each brand can reach out to the other's audience to gain more exposure.
7) Award Press Release 
It is always a great accomplishment when an individual or company receives an award for their industry achievements. While industry awards are pretty standard, they are not often publicized. Let's assume a company wants to establish itself as an industry leader and expert in its field. The company needs to create a press release that highlights its achievement so that its target audience can learn more about the brand. An award can be an exhilarating experience, but the press release that is released should still be objective and discuss the award from a business perspective rather than bringing personal emotions into it. Excitement and emotions are natural in a situation like this. Nevertheless, companies should consider channeling their excitement into explaining how the award sets them apart from their competition and allows them to further their mission.
8) Charitable Initiative Press Release 
Consumer behavior is changing and people are thinking twice about what company they want to support and what products to buy. Charitable initiatives are a great way to show the public that a company cares about more than just profits. This has been even more true during the current economic recession. At the moment, consumers resonate more with companies that are doing as much as possible to give back to the community during a tough time.
A charitable initiative press release is a company's chance to tell audiences that they are concerned about more than money while also giving them an inside look into its culture. One way or another, we are emotional people and gravitate more towards a feel-good story than a factual one. Be that as it may, much like writing other press releases, it's essential not to be overly promotional. The most effective way to write this type of press release is to give a high-quality description of the work done and rally others to get behind the cause.
9) Crisis Communications Press Release 
Crisis management is another essential part of a company's overall business strategy. When a crisis breaks out, the best way to deal with it is by providing a personal statement from the company so that people do not naturally begin to speculate, come up with their own theories, or predict the future.
A crisis press release is designed to stop speculation, build trust in the business, stop investment decline due to speculation, and establish a central source of accurate information.
Press Release Examples
1)

Target
In 2014, Target experienced one of the largest data breaches in retail history. They approached the situation by creating a crisis management press release. In this press release, they accepted full responsibility for what happened and stayed focused on maintaining their customers' trust. They also reassured their existing customers and added additional facts that individuals could use to gauge their risk. Target also offered free credit monitoring services to repair the damage the data breach caused.
2)

Zoom
As Zoom exploded quite quickly because of the COVID-19 pandemic, there were rising security concerns surrounding the software. In response, Zoom released an acquisition press release to bring new stakeholders up to speed, show its continued commitment to improving its software's security, and provide ways for users to receive updates continually.
3)

CNN
While CNN is one of the major powerhouses for people to obtain news from all over the world, they also try to keep people updated with the company updates. This press release example discusses the new hire of Chris Cuomo when he joined the CNN team after leaving ABC News.
4)

Donate Life America
This press release example is a good combination of the event and charitable press releases. Donate Life America does a great job making their information newsworthy by stating that the White House would host the event. The organization also mentions that the event is aimed at saving lives, and includes influencers and organizations' involvement. It also did a good job using links to direct journalists to information about their preferred topics and angles.
5)

GOJO
The GOJO press release used the Inverted Pyramid writing technique to convince readers that they should care about the company's solution to a significant community problem. After making their case to the community audiences, they also offered contact information solely dedicated to journalists who wanted to learn more about their initiative.
6)

eBay
As mentioned previously, new hires may not seem like important news to people outside a company's industry. Even so, eBay did a good job of establishing why Jamie Iannone should pique journalists' interest. The press release highlights a newsworthy angle by expanding on Iannone's expertise and impressive career while also instilling trust and optimism in customers, investors, and employees who might be wary of change.
7)

Gerber
This example of a press release can be categorized as a general news or event press release. There is nothing more touching than a feel-good story that involves babies. Gerber did a great job of telling an engaging story in a way that made it easy for journalists short on time to publish the story as is. This resulted in a newsworthy release that left readers wanting to read more and provide journalists with a story that could immediately be sent out. This also allowed journalists to create follow-up articles as the story continued to develop.
8)

Chevrolet
Many of Chevrolet's press releases revolve around new product releases or improvements in their current products. The reason why many of their press releases get media coverage is their ability to use both text and visual content in their press release. Using multimedia and even interactive media that can immerse readers and journalists into their products generates more engagement than a mere text press release could.
9)

Coca-Cola
This press release example is the epitome of short and sweet. The partnership press release announced that Coca-Cola was planning to partner with the Make-a-Wish Foundation. For every Coke product sold, a dollar would go toward the foundation to help make terminally ill children's dreams come true. This press release packed a punch because of its ability to put all critical information in a few short paragraphs. The fact that this is a charitable initiative also contributed to positive publicity for Coca-Cola.
10)

Yarnspirations
This new product launch press release from Yarnspirations offered options to target demographics the brand could not reach before. Their press release worked well because it effectively positioned the company's products as industry disruptors. For journalists who do not have time to read long press releases, Yarnspirations provided a way to immediately access the important information.
11) Chick-Fil-A
Falling under the rebranding category, Chick-fil-A's product-improvement press release did well because it followed all the best practices for a press release. Their press release was concise, had an objective tone, and a call to action. All these elements are valuable to the brand and its readers.
12)

Apple
Apple took a unique approach in this rebranding press release by combining visuals with the structure of a traditional press release. This press release also shows that the company stands firm in its commitment to the LGBTQ community. The press release is excellent because it achieves two things; it rebrands the company as a supporter of the LGBTQ company, and launches the new Apple Watch Pride Edition. Apple has always been outstanding in its PR and marketing; this press release is no different.
13)

NASA
While this press release may seem relatively minor, NASA effectively wrote about an event to discuss a discovery beyond the solar system. It also clearly stated that people could watch the essential keynote speeches on their TV channel and the agency's website. Finally, Apple included a clear call to action by saying that there were limited spaces available. This was a clear warning that people who were interested in the event needed to try and get their seats as soon as possible.
14)

Michaels
Vendor recognition press releases are a way for companies to get the word out there about their company while also providing exposure for the company that helps them achieve their goals. The elements in this Michaels press release were designed to increase the level of engagement with the story and the brand.
15)

Manna Development Group
Like the traditionally concise press release, an acquisition press release answers the who, what, when, where, why, and how of the acquisition. To establish more authority, these press releases generally use quotes. These encourage readers to let go of any anxiety around the change and focus on the bright future signaled by the acquisition.
16)

Kohl's
Kohl's did an excellent job creating a short but informative press release that offers an objective and factual release without using a self-promotional tone. The press release also provides resources to journalists can use to create well-written stories, including multiple quotes from executives and contact information for both companies which media professionals can use to ask follow-up questions.
17)

Keurig
In this example, Keurig did a good job establishing itself as an authority in the beverage industry. This partnership press release is excellent because it concisely presented the message that they were teaming up with other powerhouses. Keurig is known for its coffee, while Dr. Pepper and Snapple are focused on other drink products. By partnering with those two companies, Keurig can reach an even larger audience than the average coffee drinker.
The Hormel Institute press release is an excellent example of a general news release that tells a feel-good story. The press release mentioned how they planned to continue their essential research for cancer and other diseases while also making sure that they follow the rules implemented during the COVID-19 pandemic. They wanted their audience to be aware that they were taking the necessary precautions while also continuing to do their job in creative ways.
In this acquisition press release, Siemens concisely states that they had procured a project with AGL Energy Limited to deliver and maintain a Distributed Control System and a simulator training facility to enhance safety and reliability. It is an outstanding example of how two companies merge to create a new product that will benefit both their communities. This example is great because it has a clear message and builds trust with the people in their community, increasing visibility.
20)

Microsoft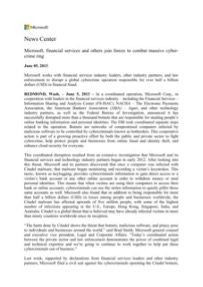 In this example, Microsoft announces that they have joined forces with other companies in the financial services industry to fight cybercrime and find a solution for it. The press release works because it shows that Microsoft is combining forces with other thought leaders from other industries. By collaborating with other industry leaders, they can reach audiences which they may not have had access to previously.
21)

General Motors
In this press release, General Motors presents themselves as experts in their industry. By coming to agreement with the US and Canadian governments, they can create better products to help them in the competitive market. By stating that they are being backed by the government to make a "New GM," they can instill trust that their products are safe and follow proper procedures while also investing in a brighter future.
22) Stitched Products
This press release is an example of a new product press release. Stitched Products is obviously committed to helping develop a solution for iPhone users looking for a phone case that removes all unwanted debris like lint, dandruff, and pet hair. The press release is great because it clearly states the intention of the release in the first paragraph and also goes on to state that it is also a crowdfunding campaign. It's also important to note that the press release includes the appropriate links and a clear call to action so that readers and media professionals can directly click on the campaign to either donate or find more information.
23) Netflix
Ever wonder why so many Netflix shows get so much hype? A lot of it has to do with Netflix's ability to get people interested in their content through their press releases. This example states that Netflix had partnered up with actor John Stamos, who played Uncle Jesse from Full House, to create a mini-documentary series about his life. Not only are they building hype for the show, but they are also giving exposure to Stamos.
 24) Nike
This new hire press release is an excellent example of a company presenting all the critical information of why their new employee is the best fit for their company and how they can improve. By adding past work experience, Nike establishes Jim Scholefield as someone who has experience in their industry and encourages readers to keep him top of mind when considering the company.
Nike has always been a pioneer in the design, innovation, development, and creation of footwear and other athletic accessories. In this new product press release, Nike launched their new t-shirt that used computer design to "fuse a series of body maps and form a knit pattern based on the motion." This provided hype for all athletes out there looking for a product that would make their workout better.
25) Instagram
We are all aware of the famous rebranding Instagram went through from their original concept art to the current icon. Their rebranding press release and strategy gave a fresh, vibrant look to their interface and visuals. Their press release worked because it explained to its audience the reason behind the rebranding and encompassed all of its new apps to create a unified look.
26) Freshworks
Freshworks Inc's press release is an excellent example of a brand using a single brand name to sell products. In the press release, the company, called Freshdesk Inc, announced the creation of their new umbrella brand, Freshworks. This brand encompasses all other branches of the company like Freshdesk, Freshservice, and more.
27) Aspire Systems
In this award press release, Aspire Systems establishes itself as an expert in their industry by mentioning that the company was featured in "India's 100 Best Companies to Work For in 2019" The press release shows that they will continue to provide services like outsourced product creation, software testing, application support, etc. to their customers. With this announcement, the company also gives potential hires the incentive to consider the company as a place of work.
28) Adobe
Expert position press releases are mainly used to establish a person or company's credibility in a specific area. In this press release, computer software giant Adobe shows their expertise in their field when it comes to B2B and B2C commerce suites. It is an excellent example because it presents information that has been validated via research from an unbiased firm and shows that Adobe was able to receive the highest score possible in all aspects of their products.
29) S&P Global
This press release is an excellent example for the financial services industry because it demonstrates expertise about the difficulties that companies were facing or expected to face due to the COVID-19 pandemic. By presenting these valuable insights, S&P has established itself as a leader in their sector, turning themselves into the go-to for valuable information.
30) H&M
In the world of fast fashion, full transparency about the goings-on of a company can be very rare. However, H&M, a company that has previously been known as one of the leaders in fast fashion, became the first fashion retailer to offer their customers complete transparency. This commitment to honesty enables customers to make informed decisions and positions the brand as an expert in the industry.
31) HSBC
HSBC has always been one of the frontrunners in the finance industry. In this recognition press release, HSBC proved they are an expert in the industry by positioning themselves in green financing and gaining the Green Climate Fund accreditation. The press release worked well because it emphasized that the company is committed to sustainable development and will continue working with clients, governments, and businesses to address climate issues.
32) AT&T
In a world where people are highlighting the importance of diversity and inclusion in the workplace, this recognition press release positions telecommunications company AT&T as an expert in their industry. AT&T states that they are now a member of the Hall of Fame DiversityInc top 50 companies for diversity. This is excellent recognition because all companies that have made a list always have and will continue to be leaders in diversity and inclusion. This promotes accountability for fair treatment of their employees.
33) AstraZeneca
At the moment, AstraZeneca does not need any introduction since it is one of the companies that have brought the COVID-19 vaccine to reality. However, in this press release, the company was announcing their Young Health Program's partnership with UNICEF to raise awareness among young people and decision-makers about the dangers of mental and physical health disorders. It worked because it covered the efficiency and efficacy of the program, thus highlighting the importance of the initiative.
34) Honeywell
In this press release example, Honeywell demonstrates solidarity to their community by providing a solution to fight the pandemic through charitable initiatives. In the press release, the company discusses how they will support their community by producing and donating hand sanitizer during the pandemic. This shows that rather than just thinking about profit, they want to help people during this tough time. A charitable initiative like this one is bound to increase Honeywell's visibility.
35) The Walt Disney Company
The Walt Disney Company needs no introduction, but in this press release, the company intended to spread awareness to its large community of its efforts through the Disney Conservation Fund. Since their audience encompasses everyone from children to adults, they can get their message out there to promote environmental protection programs and projects that help conserve biodiversity and ecosystem while also encouraging their audience to take action.
36) New York Life
In this acquisition press release, New York Life explains to its audience the value that the company can bring to its policyholders in their well-defined business model. This press release is excellent because it provides audiences with a better understanding of how they can provide a solution to their consumers.
37) Facebook
Facebook is already known for connecting loved ones around the world. In this merger press release, the company shows how by acquiring WhatsApp they can continue on their mission to strengthen their connectivity and offer increased use value to people around the world. What works so well is the detailed description of the deal, including the financial aspects.
38) Berkshire Hathaway
If you're unfamiliar with this company, you are probably familiar with its primary investor, Warren Buffett. This press release worked because it complemented Buffett's ideas and strategies to increase its earnings through mergers and acquisitions. The takeover of Precision Castparts Corp has been the company's most prominent takeover yet.
39) JP Morgan Chase
When racism had reached an all-time high, JPMorgan Chase decided to create a new position at the company named "Global Head of Diversity & Inclusion." This position was a reflection of their stance on the importance of diversity and inclusion in the workforce. This worked well because it showed their community and other potential audiences that they were working to create a better work environment for their company and give other businesses the incentive to do the same.
40) Volkswagen
This press release would be considered an "update on existing product" press release. Volkswagen already had their product, the Golf GTI, but this press release announced an update to take their automobile to the next level. Their new Vehicle Dynamics Manager is meant to help manage all electromechanical operating gear systems intelligently.
41) Sony
42) Titleist
This new product press release example is great because it explains how the product has been improved in its latest version. It also offers a clear description of product features and provides quotes from the company's experts like the Senior Product Manager.
43) Saudi Aramco
Known as one of the world's largest oil and gas companies globally, this partnership press release announced the long-term sponsorship that Saudi Aramco was launching with Formula 1®. By promoting this, it connected the company to a vast audience of racing fans to strengthen its corporate branding and engagement through the PR event. What makes this press release significant is that it was the first time an oil and gas company had announced a sponsorship with a major sporting event.
44) L'Oreal
L'Oreal has been a powerhouse in the beauty industry for a very long time. In this partnership press release, the brand announced its partnership with Expo 2020 Dubai as an official beauty products and services partner. By doing so, they can reach an even larger audience while also presenting their latest beauty products and services. This partnership also allows them to participate in events that showcase the future of beauty, driven by customization, new technologies, and sustainable innovation.
45) Renault-Nissan
These companies are in two different industries, but they are both still very well-known names. This press release example is great because it shows that Renault-Nissan and Microsoft have combined forces to use technology to "deliver the future of connected driving." In a society where we rely heavily on both transportation and technology, the press release gives readers a sense of excitement about the direction that both companies are heading in.
46) Associated Press
This Associated Press press release is excellent because it clearly identifies the intention of the story. Much like other partnership press releases, it shows two companies with different target audiences coming together to create a product that can help users meet all their media needs in one place. By partnering with each other, both companies can reach a larger audience and target one they may not have had access to before.
47) Vans
In this charitable initiative example, well-known brand Vans announced that they were teaming up with a non-profit foundation to help educate active youth worldwide about the benefits of ocean safety awareness. The press release works because Vans is not only a company that people already love, but they are also trying to find solutions to two major issues that the world is dealing with today – environmental issues and lack of education for children. This presents a feel-good story that helps audiences resonate more with the message.
48) Huawei & Porsche Design
This press release is an excellent example of a collaboration between two companies in different industries to create a product that consumers are interested in. Huawei had already gotten traction for its products for being uniquely designed at lower prices. By involving an already famous luxury car company like Porsche, they could reach an audience they may not have been able to get previously.
49) Nikon
In this new product press release, Nikon establishes with their already existing fanbase that they were developing their products to stay up with the times. Nikon has already been a world leader in digital imaging, precision optics, and photo and video capture technology. They have been globally recognized for setting new standards in product design and performance. It is clear that not only are they keeping up with recent technological advances, but they also can concisely describe their new products in a way that will attract photographers and videographers around the world.
50) NBA & Microsoft
With advancements in technology, it has become necessary for companies and industries that were thinking of it as an afterthought to make it an essential part of their business strategy. By partnering with Microsoft, they created a platform that delivered new experiences and enhanced streaming capabilities through Microsoft's AI capabilities and other technology.
---
But before reading further
We at Pressfarm believe that everyone must have a shot at easy PR, access to journalists and easy understanding. Our experts in cooperation with you will help you take your company to the next level and bring more visibility to your company.
Get to know Press farm.
---
51) FashionNova
Since its existence, Fashion Nova has gained its reputation by teaming up with famous influencers and celebrities like the Kardashians and Cardi B. They are generally renown for making clothes that are slightly revealing. However, this press release shows that they wanted to embrace a new audience by creating a maternity line for pregnant women to feel confident in fashionable clothing.
52) Marriott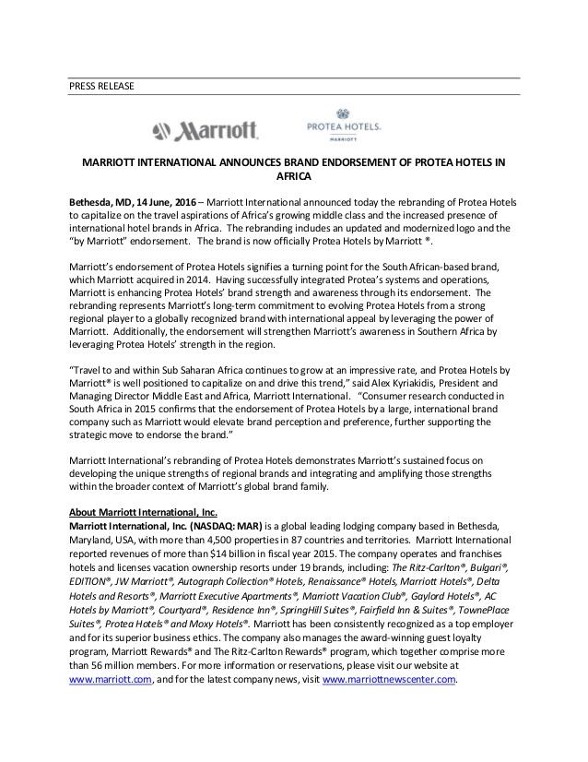 53) Mattel
Unless you've been living under a rock or aren't interested in reality television, you know who Honey Boo Boo is. In an attempt to capitalize on her and her family's celebrity, Mattel came out with a doll that represented her. However, because of their reputation for saying and doing quite outlandish things, Mattel decided to recall the dolls to create a doll that could be seen as a better role model. In this crisis management press release, Mattel did a good job communicating their mistake and how they were going to fix it.
54) Bacardi
55) McDonald's

In this charitable initiative press release, McDonald's' teamed up with the Trussell Trust Charity to stop hunger and poverty in the UK. The press release proves successful because it reiterates the importance of food waste while also helping find a solution for a rampant problem all over the world.
56) Ingenico
In this partnership press release, Ingenico, the world's leader in secure payment transaction solutions, collaborated with Kodak to make it easier for people to print their digital photographs easier. The combination of two companies from different industries gives both the ability to gain visibility with an audience that they could not in the past.
57) FlyDubai
At the height of the COVID-19 pandemic, many people were still wary of getting on a plane. This news release is an excellent example of how the company was planning to continue the business and reassured travelers that they could still operate due to their compliance with government regulations. Thus, travelers felt a sense of safety and were more comfortable attempting to travel once again.
58) HP
In this new hire press release, HP shows their audiences that they have hired individuals that go along with their message to bring more diversity to the company dynamic. With consumers gravitating towards companies that present a united front to fight the injustice of racial discrimination, HP did a great job announcing their new hires and their effort to stand united against injustice.
59) Shopify
With online sales increasing rapidly, e-commerce company Shopify presented its ability to obtain high sales during Black Friday. This type of press release would be considered general news, which benefits that company and establishes them as an authority figure because of the number of sales they could obtain.
60) Volkswagen
Your press release can make the difference between a journalist coming to your website to learn more or brushing your brand off and moving on to the next one. In order to make a journalist's head turn, you need to craft an outstanding press release. Hopefully, with the above tips and examples, you can do just that.
---
How Pressfarm can help
For an entrepreneur, how you shape your brand image can determine your success or failure. At Pressfarm, we help companies define the right narrative in the media for their brand – either to improve their credibility or resolve a PR crisis. If you are an entrepreneur wondering how to improve your company's publicity, get in touch with us. We can help you to craft and distribute your press releases, develop compelling guest posts and design eye-catching media kits for your brand.
Learn why we are good at what we do from our customer success stories.